CHOP Ranked Among the Best by U.S. News & World Report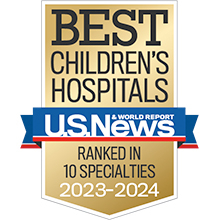 On U.S. News & World Report's 2015-16 Honor Roll of the Best Children's Hospitals, The Children's Hospital of Philadelphia was named No. 2 in the nation. We are consistently ranked as one of the best children's hospitals in the U.S., which means your child will receive some of the best care available in the country at CHOP.
In addition to the overall Honor Roll rankings, U.S. News evaluates programs in 10 specialty areas. For 2015-16, CHOP ranked in the top four in nine out of 10 specialties and No. 1 rankings were awarded to two CHOP programs: Neonatology and Orthopedics.
Why the rankings matter
To create the 2015-16 rankings, U.S. News surveyed 1,500 pediatric specialists across the country — 150 in each specialty — about where they would send the sickest children for various conditions. They also asked the nation's 183 children's hospitals to provide extensive clinical data.
The Children's Hospital of Philadelphia earned high marks for our dedication and expertise across multiple specialties. At CHOP, your child will benefit from the quality of our treatment, superior nurse-patient ratios, commitment to safety, emphasis on family-centered care, groundbreaking research, and much more.
CHOP ranks in the top 4 in nine out of 10 specialties
#1 ranked in:

#2 ranked in:

#6 ranked in:
#3 ranked in:

#4 ranked in: