Division of Neurosurgery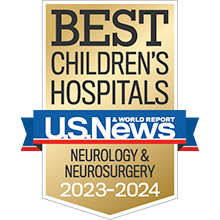 The Division of Neurosurgery offers a full range of inpatient and outpatient services to infants, children and adolescents up to age 19. Particular emphasis is placed on treating children with brain tumors.
A multidisciplinary Neuro-oncology Program is active in this area and all diagnostic modalities are available for the investigation of lesions of the brain, including CT scanning, magnetic resonance imaging, functional MRI and spectroscopy. Access to interventional services and focused radiation therapy techniques is also available through the University of Pennsylvania Medical Center.
The unit also has a large clinical research program in pediatric head injuries. Additionally, expertise in cervical spinal trauma and other spinal disorders is available.
Other programs and services
The Pediatric Regional Epilepsy Program (PREP), a multidisciplinary effort for children with refractory or intractable seizures, provides evaluation services, medical therapy and epilepsy surgery.
A rhizotomy and baclofen pump program for children with cerebral palsy or other conditions associated with spasticity is available for evaluation, surgery and rehabilitation.
Services are also available for the care of fetuses with a suspected congenital malformation involving the brain and spine through the Center for Fetal Diagnosis and Treatment. The multidisciplinary clinic is available for the care of children born with myelomeningocele.