Fundraising
There are many opportunities to become personally involved in raising much-needed funds on behalf of The Children's Hospital of Philadelphia. When you attend one of our fundraising events, host a community event, start a fundraising page or donate to someone else's fundraising efforts, you make an immediate and memorable impact on children and their families.
Funding Patient and Family Education: Jackson's Story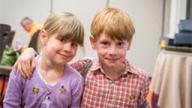 First-grader Jackson Moul turned $10 of seed money from a school project into a $600 donation to the Diabetes Center for Children.
Read Jackson's story
Plan a Community Fundraising Event
Each year, many generous and dedicated people host fundraisers to benefit The Children's Hospital of Philadelphia. Whether you're interested in organizing an event in your community or at your school, planning a fundraiser is a wonderful way to touch the lives of kids who rely on Children's Hospital for care, cures and hope.
Online Fundraising
Fundraising Pages are an easy way for you to make meaningful donations to CHOP and encourage others to do the same. You can design your own page and start raising money for a cause that matters to you, search our Fundraising Pages directory for a fundraiser you'd like to support, or sign up to participate in or donate to an upcoming event.
Run Your Race for CHOP
Whether you're running a 5K in Philadelphia or a marathon anywhere else around the world, you can join "Team CHOP" and race on behalf of The Children's Hospital of Philadelphia. We've made it simple to set up a personalized fundraising page and then share it with friends and family. The money you raise will help doctors, nurses and researchers continue to work every day to find cures and save the lives of children in your community, across the country and around the globe.