Celebrating Halloween with Diabetes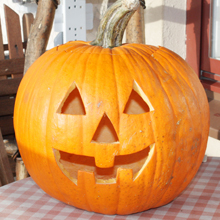 It's that time again for Halloween fun! Unfortunately, trick-or-treating, Halloween parties and endless candy can be difficult for children with diabetes.
That said, candy can be eaten with careful planning and carbohydrate counting to keep your child's blood sugars under control.
Helpful tips for a happy Halloween
Allow your child to eat a few pieces of candy after a meal, but make sure you count the grams of carb as part of your meal. Refer to this handy Carbohydrate Counts for Halloween list. (PDF)
Make a healthy trail mix using the candy (1/4 cup nuts, 1 cup dried unsweetened cereal mixed with a fun size M&M's® or chocolate-covered raisins
Give out small toys, stickers, or pencils instead of candy at your house on Halloween night.
Trade in the candy for a present (toy, book, new outfit).
Have your child pick out his favorite pieces of candy to eat then donate the rest to the following places:

Local dentist office will buy back your child's candy.
Ronald McDonald House in Philadelphia: Drop off your bag of candy to families and children at the Ronald McDonald House in Philadelphia.
Boscov's Halloween Candy Exchange Program: Boscov's is offering this program in many of its department stores including Exton and Plymouth Meeting, PA, You must pre-register by Friday, Oct. 26 to participate in this program.