CHOP Concussion Expert Featured on Fox 29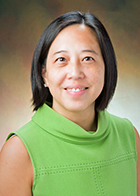 Christina Master, MD March 6, 2014 — Playing sports is a great way for kids to get exercise, learn lifelong healthy habits, and have fun. But what about the risk of sports-related concussions? What can parents do to help keep their kids safe? And at what age is it appropriate for kids to play "contact" sports? CHOP concussion expert Christina Master, MD, answered these questions and more on Fox 29's Good Day Philadelphia.
Learn more about Concussion Care for Kids: Minds Matter.