CHOP Injury Researcher Co-authors IOM Report on Youth Concussion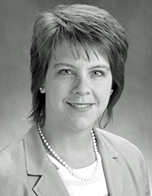 Kristy Arbogast October 30, 2013 — The Institute of Medicine Released a report entitled "Sports-Related Concussions in Youth: Improving the Science, Changing the Culture."
The report was co-authored by 17 experts from around the country, including CHOP's Kristy Arbogast, PhD, director of engineering at CHOP's Center for Injury Research and Prevention (CIRP). As an expert in pediatric biomechanics, Dr. Arbogast's contributions focused on the biomechanics of concussion, biomechanical thresholds associated with concussions, and the effectiveness of protective devices (such as helmets), equipment and sports regulations for the prevention of concussions.
More information
Read the USA Today article.

Read Dr. Arbogast's blog post on the science behind whether helmets protect kids from concussions.

View our Minds Matter videos by CHOP experts on concussion-related topics.