CHOP Patient Blogs Her Journey in Philadelphia Inquirer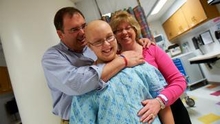 Ewing Sarcoma Patient May 24, 2011 — Today, the Philadelphia Inquirer launched a new blog called "Onco Girl," featuring the writings of 11-year-old CHOP cancer patient Rachel Kovach who was diagnosed with Ewing sarcoma in January.

Rachel will be blogging regularly about her medical journey on the Inquirer's website, Philly.com. She'll be educating the broader community about the world of pediatric cancer through her experiences. 
Join the journey
Meet Rachel and follow her journey on these sites: