Dr. Dormans Honored by the MHE Research Foundation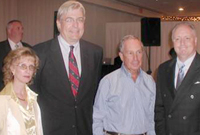 The Multiple Hereditary Exostoses Research Foundation awarded John P. Dormans, MD, FACS, the Humanitarian Scientific Achievement Award at its annual banquet on Sept. 13.
Dr. Dormans was honored for a lifetime of "dedication and service to children, and efforts that have been felt around the world." His contributions were also recognized at the banquet by New York Mayor Michael Bloomberg, who presented him with a legislative resolution from the New York State Senate and a citation from the Borough of Brooklyn of the city of New York.
About Dr. Dormans
Dr. Dormans, chief of the Division of Orthopaedic Surgery at The Children's Hospital of Philadelphia, has spent much of his career treating children with musculoskeletal tumors and spinal disorders, and regularly treats children with MHE. In addition to his orthopedic surgical career, he has conducted basic and clinical research on congenital conditions, trauma and musculoskeletal conditions, and has authored medical textbooks on spinal disorders. He is also active in the professional community and is the current president of The Pediatric Orthopaedic Society of North America (POSNA).
(Photo right: Sarah Ziegler, vice president, MHE Research Foundation; Dr. John P. Dormans, chief of Orthopaedic Surgery at The Children's Hospital of Philadelphia; New York City Mayor Michael Bloomberg; and Craig A. Eaton, JD, president of MHE Research Foundation, at the annual Fantasia Research Banquet held Sept. 13, 2009.)