Planting Summer Veggies in CHOP's Sea Garden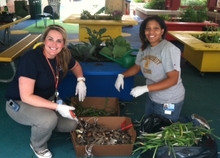 CHOP staff plant vegetables in the Sea Garden at Children's Seashore House. May 23, 2013 — Volunteers were out in the Sea Garden today to help a crew made up of CHOP staff and Pennsylvania Horticulture Society experts plan for the summer months ahead.
Daffodil bulbs were harvested and relocated to the external portion of the garden and "Under the Sea" coleus were planted in hanging baskets called woolly pockets. New vegetable seedlings were also planted: tomato, eggplant, squash, cucumbers, leeks, peppers and a variety of herbs.