Special Toy Helps Kids Deal with Illness
Research with families and patients helped shape Cellie Cancer Coping Kit
Published on in CHOP Family News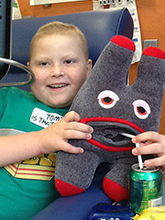 When their child is diagnosed with cancer, families search for ways to help their child cope — with the painful medical procedures and side effects of treatment and with the emotional stress of having the disease.
A new, evidence-based program at The Children's Hospital of Philadelphia, the Cellie Coping Kit, was created to help children with cancer and their families better handle the multitude of stressors they face by using a stuffed toy, named Cellie, cards with coping tips and a parents' guide.
Justin and his family participate in Cellie prototype
Justin found out he had acute lymphoblastic leukemia (ALL) in July 2010. He and his parents, Bill and Lisa, agreed to look at an early prototype of Cellie, the coping cards and guide as part of a research study and give their opinions and ideas to make it better.
"I gave them the idea to make a pocket so you could put notes in his mouth," says Justin. Indeed, the final version of Cellie has a zippered mouth and can hold the coping cards and other notes in its mouth.
"I immediately thought, 'What a great idea,'" Lisa says. "It would be great for newly diagnosed families to help them learn how to cope. I could envision kids cuddling it during treatments. We had discovered some of the ideas on our own, but I knew it would be especially helpful for families early on."
So many ways Cellie can help kids cope
When Justin relapsed this spring, he was given a Cellie Coping Kit of his own. As a 10-year-old boy, he doesn't cuddle Cellie much, but he and his family have found the coping kit to be helpful during this cycle of treatment.
"It invites conversation," Lisa says. "At first, it was hard to even talk about the C-word. Now, we take Cellie out and look at the cards, and I try to engage Justin in talking about having cancer. Cellie helps him open up. Sometimes, we get silly. Laughter and humor are a big part of healing."
During a recent treatment, Cellie had made the trip from their Aston Township, PA, home to CHOP with Justin. Justin wore an allergy alert bracelet, and so did Cellie. Cellie also comes along when Justin is inpatient for four days every month for treatment.
Justin says the tip that encourages kids to write down questions they have for their doctor, so they don't forget to ask them at the next appointment, gave him the confidence to ask more questions on his own.
Bill and Lisa follow some of the more than 100 tips in the caregiver's guide. For example, they remind Justin to use "belly breathing" during needle pokes and distract him with complex LEGO® sets that are brought out only during his hospitalizations. "We've made a space shuttle and a ninja ship with moveable parts," Bill says. "The kits have hundreds of pieces and keep him really occupied."
The team behind Cellie
Clinical psychologist and behavioral researcher Meghan Marsac, PhD, who came up with the Cellie idea, started with existing research and discussions with CHOP's oncology team to develop the  prototype. An independent artist, Anne Vinsel, MFA, created Cellie. "We wanted something engaging for the children to help them through this difficult time in their lives,"  Marsac says. "It needed to be child friendly and family friendly. Families can use the Cellie Kit independently, but medical providers can include it in their care of the patient, too."
After incorporating input from the first research study — the one Justin and his family participated in — Marsac conducted a second study with a dozen families who were given a Cellie Coping Kit when their child was diagnosed. Overwhelmingly, children and parents liked the kit, felt the advice was trustworthy and helpful, and, most importantly, they used it.
This summer, kits began being distributed to newly diagnosed patients ages 6 to 12 years. The  Comprehensive Sickle Cell Center has adapted the kit for a study involving its patients, and other areas of CHOP are also considering rolling out their versions. Marsac would like to make Cellie available to kids facing cancer at other hospitals, too.
"The Cellie kit was just one of so many things CHOP has done to make this experience easier on Justin and on us," Lisa says. "The generosity and caring blows my mind." For more information, go to www.celliecopingkit.org.