Understanding Your Child's Bill
Even if your insurance plan covers your visit to CHOP, you are still responsible for any cost-sharing expense, such as co-pays, co-insurance and deductibles. The amount will vary depending on your insurance and will be found in your child's bill.
There are three bills you might receive for services provided by The Children's Hospital of Philadelphia. These include a Hospital bill (green), a Physician bill (blue) and a Home Care bill (white). Learn more about each of these bills:
Hospital bill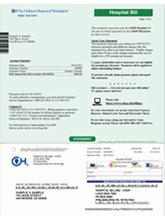 This bill covers charges for hospital services. This will include but is not limited to: procedures; overnight stays; supplies and equipment; and technical services, such as lab tests and radiology studies. This also includes charges for services provided by non-physician clinical staff. This will include but is not limited to: audiologists; dietitians; and physical, occupational and speech therapists. If your child received any such service, even if it was during a visit with a specialist at a Specialty Care Center or at the Wood Center, you will receive a Hospital bill. This explains why you might receive a Hospital bill without ever coming to the main Hospital building at 34th Street and Civic Center Blvd. in Philadelphia.  
Questions about your Hospital bill?
Call 1-800-283-3055 or 215-590-2555
Physician bill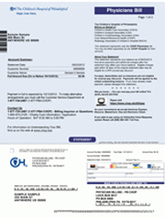 The bill you receive from the physician group is for professional services such as evaluation and management, and procedures performed by physicians and other clinicians who were involved in your child's care. This includes providers at CHOP's Main Campus in Philadelphia, and all Primary Care and Specialty Care locations in Pennsylvania and New Jersey.
Questions about your Physician bill?
Call 877-724-2467 (877-PB4-CHOP)
Home Care bill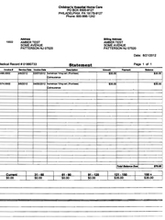 Not everyone will receive a Children's Hospital Home Care bill. If you receive a bill from Home Care, it will cover charges for medical services provided for your child at home. These might include nursing visits, infusion therapy, enteral feedings, injectable medications, medical supplies and equipment, and many other services.
Questions about your Home Care bill?
Call 1-800-866-1242
 If you didn't find the answer you were looking for, submit questions about your bill here.
Requesting a copy of your billing statement
For copies of your billing statements, please describe exactly what you need using our Billing Inquiries form or call:
 1-800-283-3055 for Hospital bill
 1-800-724-2467 for Physician bill
1-800-866-1242 for Home Care bill
If you have received an explanation of benefits (EOB) from your insurance carrier but have not received your Hospital bill and Physician bill within 90 days of receiving the EOB, please contact us at 800-283-3055.