Vibrant and talkative, 12-year-old Jessie Ditzel describes her passions easily: the outdoors, her herd of miniature farm animals, riding horses, hunting with her dad, and just about everything else about life on her family's 93-acre horse farm in Ringoes, N.J.
A sixth-grader at East Amwell Township School, Jessie's day-to-day life is much like those of her peers in her rural community. She gets up, completes her morning chores — including cleaning out the stall for her miniature pony — and then she's off to school. In the afternoon, she feeds the 12 horses her family cares for, does her homework and spends her free time with the animals or practicing target shooting or horseback riding.
Unlike her peers, Jessie has a serious spine condition — early-onset idiopathic scoliosis — that is being surgically treated by spine experts at The Children's Hospital of Philadelphia (CHOP).
Diagnosed at age 2
Jessie was only 2 years old when her pediatrician noticed her spinal curve. Her mom, Jenelle Ditzel, suspected scoliosis, since she had been diagnosed with the same disorder as a teen.
"A lot of the girls on my dad's side of the family had scoliosis," Jenelle says. "I was supposed to wear a back brace, but never did. I knew if doctors noticed scoliosis in Jessie so early, that hers was going to be a lot worse than mine and would need intervention sooner."
Jenelle and her husband, Walter, brought Jessie to the Division of Orthopedics at CHOP, national experts in diagnosing and treating spine conditions. Doctors examined Jessie, measured her spinal curve and performed other tests.
The doctors diagnosed Jessie with idiopathic scoliosis and, given her young age, initially decided to actively monitor her spine curve. As her condition rapidly progressed during her preschool years, doctors prescribed a customized back brace, one of the most common non-surgical treatments for young children with spinal deformities like scoliosis.
"I had the brace on for, like, three years," Jessie says. "I didn't like wearing it. It was uncomfortable and was affecting my other activities."
However, the alternative to the back brace was spine surgery. 
While comfort was enough to make then-7-year-old Jessie opt for surgery, her parents needed further evidence to consider such a big step.
Seeking another opinion
In 2009, the Ditzels sought a fresh perspective on her condition and possible treatment options. They began seeing John P. Dormans, MD, chief of the Division of Orthopedics at CHOP. An internationally-respected orthopedic surgeon, Dr. Dormans has developed several innovative surgical techniques for use in spine surgery. He works with other award-winning physicians and researchers at CHOP to study the link between genetics and scoliosis.
"We really liked Dr. Dormans. He's so personable," Jenelle says. "He was the one who told us bracing wasn't producing the results we'd hoped. It wasn't stopping the curves: she was getting worse. It was time to consider back surgery."
Dr. Dormans recommended growing rod surgery and explained the procedure would have a dual benefit for Jessie: it would correct her spinal curve and allow her to keep growing. He also detailed CHOP's extensive safety protocols for spine surgery, including spinal cord monitoring and intraoperative imaging, that would help keep Jessie safe during surgery.
Surgery
Jessie was 8 years old in January 2010, when she had her first spine surgery to implant the titanium growing rods into her back. The rods were placed under her skin, to avoid damaging the growth tissue of the spine, and attached to Jessie's spine at two spots — above and below the curve.
After her first surgery, Jessie remained hospitalized for about a week to recover. Then she returned home to life on the farm.
"It's funny, I felt straighter and taller right after that first surgery," Jessie says.
Continuing care
As Jessie grew, the growing rods needed to be expanded to keep up with her growth. Every six to eight months she returns to CHOP for a check-up and updated imaging studies, including EOS imaging, a state-of-the-art technology that provides 3D images while the patient is standing. Then, she's scheduled for surgery and a one- to two-day hospital stay. So far, she's had seven expansion surgeries and knows more are in her future.
"I'm going to keep having expansion surgeries until I stop growing," Jessie says. When that will be is anybody's guess. At 12, she's already 5 foot 3 inches (taller than her mom), and her dad is 6 feet 4 inches tall.
Jessie, her parents and Dr. Dormans still have to determine what happens at the end of her growth. In most cases where growing rods are used, a final "graduation" surgery is performed to fuse the spine in its straightened position. In some cases, spinal fusion is not performed — instead, the rods remain anchored to the young adult's spine indefinitely.
Life on the farm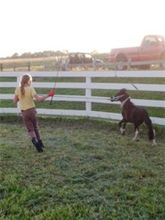 For now, Jessie is busy enjoying her life with her family and her animals. She's learning to ride horses, and enjoys scooting around her family's property on a motorized dirt bike and hunting with her dad and brothers.
"I got my hunting license this year and shot my first doe about three weeks ago. I keep dreaming of getting a big buck," Jessie says. "I use a slug gun — it's an automatic shotgun with no kick so it doesn't affect my back."
Jessie also spends a lot of time with her menagerie of pets. There's Mister, a miniature pony Jessie is training in the ring. Then there's Cherry and Pink, two miniature donkeys; and Chip and Dale, two mini goats. She's trying to convince her parents she needs another miniature pony — a female she'll name Missus.
"I just love being outside, being in the woods, caring for my animals, hunting and helping people," Jessie says. "I want to be a game warden when I grow up."
Learning how far to go
While Jessie enjoys her active lifestyle, Jessie's parents have instituted some guidelines for her activities. They got rid of the trampoline (much to the displeasure of Jessie's little brothers), restricted ice skating and roller skating, and bought a protective vest Jessie must use any time she rides horses or her motorbike.
"We're trying to protect her as much as we can, but we're also letting her be a kid," Jenelle says. "She could hurt herself doing anything. We try to let her make some decisions and then tell her when she's going too far."
As for Jessie, she's happy her parents let her get spine surgery and recommends it for other youth facing similar circumstances.
"Surgery was totally worth it for me," Jessie says. "It's made a huge impact in what I'm able to do every day."