Luke was a small baby at birth, but his family expected him to catch up as a toddler. At age 3, doctors diagnosed Luke with failure to thrive and referred him to CHOP's Pediatric Feeding and Swallowing Center. Luke's mom shares their story.
I will never forget the day that my second baby, Luke, was born. At only 5 lbs. 7oz., he immediately ended up in the NICU with breathing problems. 
Within 24 hours he developed a small hole in his lung. Soon after both of his lungs collapsed; yet he made a quick recovery and was home within a week and a half of being born — he was a strong-willed fighter from day one.
Luke remained a small baby, but it was not until he was 18 months old that his doctors started to show some concern. He never enjoyed eating, and as he got older it became clear that his food selectivity was not just that of a "picky" child.
Diagnosed, then hospitalized
By the age of 3 he was diagnosed with failure to thrive and sent to various specialists at CHOP. Luke's selectivity became worse and trying to get him to eat any type of food became more of a challenge. In February 2012 he was hospitalized for dehydration, diagnosed as hypoglycemic and had an NG feeding tube placed.
I was devastated. As a full-time working teacher and a mother of three, I needed to focus on Luke and resigned from my job.
Luke's journey towards success began as we focused on his health and pursued admittance into the Pediatric Feeding and Swallowing Center at CHOP.
Living in the area, I was well aware of the amazing reputation of the hospital and began researching the Feeding & Swallowing Program immediately. Not many people know about feeding disorders, or even think they actually exist, so to find a place that not only specialized in these disorders, but also had an intensive program that worked was something that I knew Luke needed.
Food school
Luke began the Feeding Program or "food school" as we called it in September 2012, the same week my oldest son began first grade and a month after my daughter turned 2.
My husband and I met with the behavioral psychologist prior to Luke's admission, who gave us a clear and honest picture of what the program would entail. I knew it would be a challenge to be at CHOP daily from 8 a.m. to 4 p.m. with Luke, especially with other children at home, but I also knew that this was what Luke needed in order to begin to have a positive relationship with food.
The program and all of the staff members amazed me. Luke's feeding team was attentive to his needs, sensitive to me as a parent, yet firm in the feeding system that they used.
They addressed issues that I did not know were even causing a problem with Luke. For example, allowing him to be in charge of his eating by letting him tell me what he wanted to eat. With a "normal" eating child, this seems like a natural thing to do, asking them "do you want peanut butter and jelly or grilled cheese?" Yet, with a child that has a feeding disorder, I quickly learned that by allowing Luke to have these choices I was enabling his behavior.
I also learned how to handle challenges that would (and did) arise, such as refusal to eat once at home, not being able to handle being in food situations, such as restaurants, parties, etc.
Learning and growing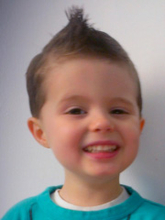 The knowledge and skills that both Luke and I gained was so much more than I was expecting going into the program. That's not to say that the program did not come with challenges, which of course it did.
One of the most difficult things that I found was finding what to do in between Luke's feeding sessions, although after a week at the program we found various things to do. Whether it was playing outside at the Day Hospital's wonderful play area, visiting the ever-busy first floor lobby or going to relax at the Connelly Center, Luke and I both quickly adjusted to the schedule.
By week two of the program I could not believe the foods that Luke was eating with his feeding therapist and how much he loved his "food school."
Graduation and continued support
Luke was discharged after four weeks and is currently in the outpatient program, where he has follow-up visits and checks for height and weight progress.
The benefits of this program outweigh any other obstacles or challenges that come along with it. Luke has made unbelievable strides towards improvement. He is no longer on a NG feeding tube, has made progress in both weight and height and he is learning to enjoy food.
He can go to a restaurant or a party without anxiety about food and the variety of foods that he now eats is more than I would have ever imagined.
To say that I am merely happy with the results of the Feeding and Swallowing Day Hospital would be an understatement. They have helped my child overcome such a major issue and continue to be a support system for my family.
This was the best decision that we could have made for Luke and are so happy to watch our growing, thriving, little boy running and playing just like any other 4 year old.

By Luke's mom, April 2013