On a rainy Thursday night in July, two families — the Jackleys from Pennsylvania and the Lihns from Arizona — had dinner together in Philadelphia. They'd never met in person, but they were already like family.
For the past two years, Tommy and Stacie Jackley and Caleb and Stacey Lihn had been coming to The Children's Hospital of Philadelphia to get the best care for their youngest children.
Zoe Lihn, 2, and Kellen Jackley, 19 months, were both diagnosed in utero with hypoplastic left heart syndrome (HLHS).
This congenital heart defect is fatal without early intervention and requires staged reconstruction heart surgery over several years.
The two families met through Sisters by Heart, a nonprofit organization that provides care packages, support and hope to newly diagnosed HLHS families. They had been supporting each other ever since during difficult moments and happy ones, keeping in touch through near-daily phone calls, emails and texts.
That July night, the Jackleys welcomed the Lihns to Philadelphia with care packages filled with items both fun (a Phillie Phanatic toy) and practical (antibacterial spray and hand wipes — "things a heart mom would appreciate," says Stacey Lihn). And as they watched their children play and laugh and share s'mores, they reflected on the journey they'd shared.
"It was one of those moments when you just take a deep breath and enjoy it because you never knew if it was going to come," says Stacey Lihn.
Finding support, friendship and hope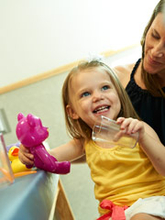 The Lihns and the Jackleys are part of a large network of CHOP "heart families" that connect with each other regularly to offer and receive support.
Heart families meet for coffee when they're at the Cardiac Center at CHOP, sharing stories about their kids' open heart surgeries and offering tips on everything from potty-training to coping with stress.
They see each other when they come to CHOP for appointments with the Cardiac Kids Developmental Follow-up Program, which provides screening and follow-up care for children with congenital heart defects who are at risk for neurodevelopmental issues.
They make new connections on the Cardiac Center at CHOP's Facebook page. And they find each other through organizations like Sisters by Heart (which recently launched a new initiative, Linked by Heart, to create even more connections among HLHS families).
These families are an incredible source of support for each other because they've all been there: in CHOP's Ronald McDonald Family Room waiting for news from the OR; by a hospital bed in the Evelyn and Daniel M. Tabas Cardiac Intensive Care Unit (CICU) as their newborn recovers from open heart surgery; at home with a very sick baby who requires constant, highly specialized care.
"When you meet other heart moms, you feel like you've known them forever," says Stacey Lihn. "You know them on such an intimate level. We just 'get' each other so well."
"Other HLHS moms are a huge wealth of support," says Stacie Jackley. "They keep you strong."
After meeting Stacey Lihn through Sisters by Heart, Stacie Jackley began to reach out to moms who posted on the Cardiac Center's Facebook page, including Jackie Ross, whose son, Xavier, is also treated at CHOP for HLHS.
She does it because she knows how helpful it is to connect with others during such a difficult time.
"I remember being pregnant, and all the emotions you go through," she says. "You have no idea what to expect. I've been there, and I know how they feel.
"It's so nice to have other people to talk to. You don't feel so alone."
Navigating the world of congenital heart disease
Jackie, Stacie and Stacey have much in common. They were all patients of CHOP's Fetal Heart Program, which provides expert diagnosis, evaluation and monitoring of congenital heart defects prior to a baby's birth. They all delivered in CHOP's Garbose Family Special Delivery Unit (SDU),  a first-of-its-kind birthing center located on the same floor as the CICU — an arrangement that ensures mothers are never far from their babies and can visit them often after delivery.
And Jackie and Stacie Jackley received support from the Cardiac Center's Infant Single Ventricle Monitoring Program, which provides care and monitoring during the high-risk period between a child's first and second surgeries for HLHS.
Now, as the three women wait for their children's third HLHS surgery, the Fontan, they take comfort in each other's company — and in the hospital that has come to feel so much like home.
CHOP is a place where they have made many friends — and many memories.
Stacey Lihn remembers the moments her older daughter spent with her in the SDU shortly after Zoe's birth. Stacie Jackley remembers the relief and hope she felt the first time she and Tommy met with CHOP's Fetal Heart team. Jackie remembers the joy she felt when pediatric cardiothoracic surgeon J. William Gaynor, MD, told her and her husband that Xavier's first open heart surgery "couldn't have gone better" — and the support she received from the nurses and other staff members she got to know so well.
"At CHOP," Jackie says, "you feel like you belong to a family."
Learning more about the future for their children
Stacey, Jackie and Stacie connected again at Heart to Heart Education Day, an event CHOP holds for Cardiac Center families each summer. In between sessions on topics like CHD research and how to help children cope with the CHD experience, they chatted with other CHOP heart parents, including Katrina Frydlewicz, whose son Stosh's story was featured in a Cardiac Center video about single ventricle heart defects.
"It's a relaxing feeling to be around like minds," says Stacey Lihn.
At Heart to Heart Education Day, Stacey Lihn and her husband Caleb also attended a session on CHOP's Single Ventricle Survivorship Program, which was created to focus on the challenges faced by those living with single ventricle heart defects and to improve their quality and duration of life.
During the session, program director Jack Rychik, MD, and clinical program manager Kathryn M. Dodds, MSN, RN, CRNP, outlined the long-term challenges children with single ventricle heart defects may face and described what CHOP is doing to address those challenges.
The Lihns were grateful for the clinicians' frank and thoughtful presentation.
"That's one of the things I love about CHOP," says Stacey Lihn. "They're so willing to educate parents and share their experience. They're open and honest with parents, and I really appreciate that."
"We have all this weight on our backs," she says, "and it's such a relief to know that CHOP is with us, carrying it."
Friends for life
A few days after Heart and Mind Education Day, the Lihns and the Jackleys brought their kids to CHOP's rooftop Sea Garden to play after a day of appointments in the Cardiac Kids Developmental Follow-up clinic. Zoe pushed Kellen in a plastic toy car, and they joined their siblings for a game of basketball at a toddler-sized hoop nearby.
"Watching our kids laugh and play together, knowing they are sharing in the same journey (big sisters included) gives me a sense of belonging and the 'normalcy' I crave in my everyday life," says Stacie Jackley. "Connecting with other heart families is food for the soul."
The two families would be heading home soon, but they knew the team at the Cardiac Center at CHOP would always be there for them — and they were confident their friendship would continue long into the future. Because, as Stacey Lihn points out, it's not just about them anymore.
"We're building bonds for our children," she says, "so they have each other as they grow up."
A message from Kellen's family
It was a challenge to get him to sit still long enough to capture him on video, but Kellen's family did just that! Watch the video below to see how Kellen is doing today and hear his parents and sister talk about his heart journey at CHOP.

Originally posted: August 2012
Updated: September 2013