It was a complete coincidence that doctors ever found the tumor growing inside 5-year-old Michael.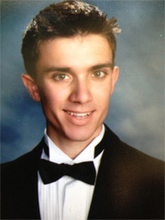 He'd fallen at his fifth birthday party and told his mom, Patti, that something hurt. A trip to their local doctor in Hackensack, NJ, led to an X-ray and CT scan. The tests showed there was a large mass in Michael's chest.
Shortly after, they learned of the diagnosis — inflammatory myofibroblastic tumor (IMT). IMT is a rare, noncancerous tumor of the soft tissue.
Surgery at 6 to remove the tumor
The biggest risk was the tumor's location; it was growing into the pulmonary artery, which carries blood from the heart to the lungs, as well as parts of the little boy's heart. The best treatment option was surgery.
When Michael was 6 years old, he had his left lung, the site of the tumor, removed.
"The surgery successfully removed the dangerous tumor, but there was a complication," says Patti. "Two nerves were damaged during the procedure, which paralyzed Michael's left vocal cord."
His family was shocked when he woke up from surgery and spoke with an unrecognizable voice that was raspy and difficult to understand.
Patti took her son to see many specialists, but the few treatments available didn't work, or would only be temporary solutions. Having exhausted every lead, Michael tried to get used to his strange new voice. School was a challenge, and he couldn't speak very loudly or clearly.
"For six years, he toughed it out," says Patti. "He was a real trooper."
Help for vocal cord paralysis
At a routine doctor's appointment when Michael was 12, the family pediatrician told Patti about another young patient she'd seen who was going to travel to Ohio to meet an expert in the treatment of vocal cord problems. Patti got in touch with the doctor to ask him about Michael's condition. He gave her the name of someone she could speak to closer to home, airway surgeon Karen Zur, MD, of The Children's Hospital of Philadelphia.
Zur had begun performing a procedure called laryngeal nerve reinnervation to help children like Michael who suffered from one-sided vocal cord paralysis. In this procedure, a small incision is made and the damaged nerve is attached to another healthy nerve in the neck. The healthy nerve sends signals to the damaged nerve and, over time, the injured laryngeal nerve will begin to heal, regaining its ability to send signals to the vocal cord. This allows for improved closure of the vocal cords, which improves the tone and volume of the voice.
After an endoscopy, bronchoscopy and voice evaluation in the Voice Clinic, Zur told the family that Michael was a candidate for the nerve reinnervation. He went into surgery on Jan. 20, 2008. Just a few hours later, he was in recovery, and he went home the next day.
For the next six months, Michael worked on his voice in speech therapy. The results were almost unbelievable to his family, who never thought he'd be able to speak normally.
"He started high school the year after his surgery with a brand new voice," says Patti. "You'd never know there was anything wrong. He was in his first play and did a speaking part on stage in a packed auditorium with no microphone. I cried my eyes out watching him up there."
New voice and improved life
"I just want families to know this surgery is an option," says Patti. "As rare as it is for something like this to happen to a child, it's important that families know there are options. Having this surgery was a huge decision.
"Michael had already been through so much, and it was scary to see him have yet another operation," she adds. "But the staff answered every question and made me feel comfortable with what we were about to do. For me as a mother, that was huge."
Today, Michael is thriving. He plays guitar, has graduated from high school, and is looking forward to the future.
"My life has changed completely," says Michael. "I can play sports and yell to friends across the field. I can sit in the back of the class and the teacher can still hear me when I talk. I started singing and playing guitar. I can even order for myself at a restaurant, instead of asking someone to do it for me."
He had a message for Dr. Zur, as well: "I'm just extremely thankful for what you did for me. It has been a blessing."

Originally posted: July 2013