Kendall is a busy college junior, studying hard, working at a local restaurant, and hanging out with friends in his spare time. He is an athlete: swimmer, runner, golfer. And he is a survivor.
When Kendall was 3, he developed a fever and rash on a vacation, becoming so sick his parents brought him home. A doctor at a local hospital suspected Kawasaki disease and sent the family to The Children's Hospital of Philadelphia.
Kawasaki disease is a rare condition that causes fevers and inflammation in different parts of the body. It can cause the coronary arteries to become inflamed and swollen. These are the two arteries that feed blood to the heart to keep it pumping.
Some children recover completely from Kawasaki disease, while others suffer serious damage to the coronary arteries and heart. Diagnosing the disease quickly and monitoring the patient through the course of the disease decreases the risk of heart damage. Doctors don't know what causes Kawasaki disease.
Kendall's experience with a "heart attack"
Kendall was admitted to Children's Hospital, where a team began to evaluate and monitor him. Though ill, he was active and talking.
The next day, Kendall's dad, John, was putting him in a stroller to take him to the first floor for lunch. Suddenly his eyes rolled to the side. Kendall's mom, Lynn, remembers asking, "Kendall, what's wrong? What's wrong?"
A team of doctors and nurses ran to Kendall. Lynn heard someone say "code blue" and knew her son had stopped breathing.
Kendall's coronary arteries had swollen and developed bulges (dilations) called aneurysms. The wall of the vessel is weaker and thinner at the aneurysm. One of the aneurysms on Kendall's artery had burst. As blood filled his chest cavity and blood flow to his heart was diminished, the 3-year-old had what we would call in adults a "heart attack."
(Kendall's case was unusual; most children with Kawasaki disease don't develop aneurysms as large as the ones that caused Kendall to go into cardiac arrest.)
Had he collapsed any place else, Kendall would likely not have survived. At The Children's Hospital of Philadelphia, within seconds he had experts doing their best to save him. 
Kendall was rushed to an operating room. For six hours, cardiothoracic surgeon J. William Gaynor, MD, and a large team performed emergency surgery. Kendall survived the surgery. But the disease had damaged his heart beyond repair.
He was placed on extracorporeal membrane oxygenation (ECMO), a machine that keeps patients alive when the heart and lungs aren't functioning. A day after Kendall collapsed, a team sat down with his parents and told them a heart transplant was their son's only chance.
A remarkable recovery
Four days later, a donor heart became available and Dr. Gaynor operated again. Kendall healed quickly and, within two weeks, was home.
That was 18 years ago. Kendall, now 21, doesn't remember that tough time. The story is remarkable: He was one of the first children to survive a coronary artery rupture from Kawasaki disease, and he was featured in Life magazine and the Children's Miracle Network Telethon.
But he and his parents worked hard for normalcy. In most ways Kendall had the active, healthy childhood he would have had if he had never gotten sick.
When he first came home, Lynn recalls, "I just wanted to protect him and keep him close." As Kendall gained strength and clamored for activity, his parents sought the advice of cardiologists at CHOP. 
"They told us to let him live a normal life," Lynn recalls. "So there are very few things that we told Kendall, you are not allowed to do that."
Kendall began playing on a soccer team at age 5. In high school he was on the cross country, golf and swim teams. He was open about his ordeal, the scar on his chest a reminder of all he'd been through.
"My close friends know all about it," he says. "If it was someone we just started hanging out with, we would retell the story. Kids would be surprised. The only thing that was different was that I went to the doctor a lot more than other kids did."
Kendall visited Children's Hospital every three months and took anti-rejection medicine two times a day. He had a few episodes of rejection, and was hospitalized, but all in all his health has been remarkable.
In August 2010, he competed in the National Kidney Foundation U.S. Transplant Games for Team Philadelphia, winning four medals in swimming and track and field.
Transitioning to adult healthcare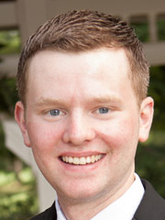 After Kendall graduated from high school and began college, he made another important transition: from a pediatric cardiologist to an adult cardiologist. It was tough to leave the place where Kendall's life was saved.
"I don't think we would have Kendall if we hadn't been at CHOP," Lynn says. "I can't say enough about CHOP. Everyone is compassionate and caring and warm. It's an absolutely wonderful place."
Kendall has adjusted well to his new doctor. And his transition to college has been smooth, too.
Some transplant patients have trouble managing newfound independence. If they don't adhere to their medication schedules and other responsibilities most kids don't have, their health can suffer. But Kendall is going strong, majoring in hotel and restaurant management and enjoying everything college has to offer.
"It's a lot of fun," he says. "I'm a lot more independent."
His message to young transplant patients: "You may feel different, but it gets better."

Originally posted: August 2011
Updated: April 2012