For a few minutes after Justin was born, on a rainy October evening in 1995, everything seemed fine. His parents were congratulated and a nurse carried the newborn away to bathe and swaddle him.
"Then one of the doctors came back and informed me there was a problem," Justin's father, Scott, recalls. "That's when everything became a blur."
Justin had begun to turn blue.
The diagnosis: Pulmonary atresia
Gerald Vekteris, DO, a pediatrician from The Children's Hospital of Philadelphia, was on-call at the hospital where Justin was born. He quickly recognized the baby had a heart problem and ordered medication to stabilize his condition. Justin was taken by ambulance to Children's Hospital.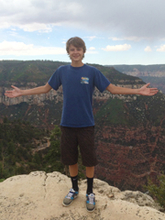 "Our baby was whisked away in the middle of the night and taken to a hospital in Philadelphia that we had never been to," Scott recalls. "It was terrible."
The next morning, Scott and his wife, Val, met the group of people that would become an enormous part of their lives: CHOP's Cardiac Center team.
Doctors performed a cardiac catheterization, a procedure that shows the heart's structure and function. The test confirmed Justin had a congenital heart defect called pulmonary atresia. His pulmonary valve hadn't formed correctly and was blocked, preventing an adequate flow of blood from heart to lungs.
Justin's medical team sat down with his family to explain the treatment for pulmonary atresia and answer their many questions.
"It was all overwhelming, but we were able to understand what was going on," Val recalls. "The doctors and nurses were very informative."
Surgery to treat pulmonary atresia
At 2 days of age, Justin had open heart surgery to treat his pulmonary atresia. The cardiothoracic surgeon placed a tiny patch across the valve to open it. After two weeks at CHOP, Justin came home. 
He returned to the Hospital two months later when doctors felt he was strong enough for the surgery needed to place a more permanent patch to help ensure there was enough blood flow to the lungs. Thomas Spray, MD, chief of Cardiothoracic Surgery at CHOP, performed the second surgery.
Before and after the surgeries, Justin's parents remained at their baby's bedside. They were able to hold Justin as he slept and healed, with Cardiac Center nurses positioning the infant in their arms, "with all the wires attached," Val remembers.
Justin recovered quickly after surgery to treat his pulmonary atresia. The nurses taught Scott and Val how to care for the scar on Justin's chest as it healed.
"He healed really well and the scar today looks fine. He's not embarrassed about it," Val says.
Atrial septal defect (ASD) surgery
As he grew, Justin had frequent checkups at the Cardiac Center. When he was 5, cardiologist Jonathan Rome, MD, performed a catheterization to patch a tiny hole between the upper chambers of his heart, called an atrial septal defect (ASD).
Before his ASD procedure, Justin's oxygen-saturation levels (the amount of oxygen in the blood) were in the upper 80s. It was adequate, but not ideal for a child his age. After the catheterization, his levels went to 100 percent.
Follow-up with the medical team at CHOP
Now 19, Justin sees CHOP cardiologist Paul Stephens Jr., MD, for regular check-ups, and at some point he will likely need a new pulmonary valve. For now, though, he's enjoying his premed classes at Boston University, where he is a Division I athlete and a coxswain on the men's crew team. He has a summer job on the Ocean City boardwalk and dreams of becoming a surgeon.
And both he and his parents are deeply grateful for the care he's received at CHOP over the years.
Of the days immediately after Justin's birth, Scott says: "Those are some of the worst memories we have. But once you meet people at the Cardiac Center, you end up trusting them. We owe a lot to them."

Updated: July 2015