The news that something was wrong with her 2-day-old baby came to Lorretta in the middle of the night.
She was in her hospital room at Virtua Memorial in Mount Holly, NJ, recovering from a C-section, when a nurse told her the results of a screening test that had just been administered to her newborn son, Brandon: His blood oxygen level was dangerously low.
Something was wrong with his heart.
"I just started crying," says Lorretta. "I was thinking the worst."
Diagnosing transposition of the great arteries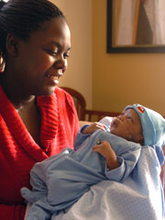 Courtesy of Dennis McDonald / Burlington County Times Within hours, Brandon was in a helicopter on his way to The Children's Hospital of Philadelphia, which has a close partnership with Virtua Memorial.
At CHOP, he was taken straight to the Hospital's state-of-the-art cardiac catheterization lab, where an echocardiogram confirmed that he had a serious congenital heart defect called transposition of the great arteries (TGA).
In babies with TGA, the aorta and the pulmonary artery are attached to the heart in the wrong places, and the body does not get enough oxygenated blood. In about one-third of cases, an emergency cardiac catheterization procedure is needed.
Brandon was one of those cases. The Cardiac Center team immediately called Brandon's parents to tell them the news. It was a difficult conversation, but, says Brandon's father, Mamadou, it was also surprisingly comforting.
"They explained everything to us, and made it so simple to understand. That helped a whole lot," he says. He and Lorretta finally knew what was wrong with their baby — and they were confident he was in the best hands.
Treatment for transposition of the great arteries
Shortly after Brandon arrived at CHOP, he underwent a balloon atrial septostomy, a catheterization procedure that was pioneered at CHOP in the 1960s. The procedure created a hole between the upper chambers of Brandon's heart so oxygenated blood from the left chamber could mix with the deoxygenated blood from the right, providing more oxygenated blood to his body.
The team called Lorretta and Mamadou at 6 a.m. that morning to let them know that the procedure to treat Brandon's TGA had gone well.
"That made me feel good, that they actually called us every time they were doing something with him," says Lorretta.
As soon as Lorretta's doctors gave her the OK, she and Mamadou checked out of Virtua Memorial and drove to CHOP to see their son and meet with his medical team.
"They showed us pictures and let us know exactly what they were going to do and what was going to happen," says Lorretta. They also explained that Brandon would need open heart surgery to treat his TGA.
Stephanie Fuller, MD, one of four cardiothoracic surgeons at CHOP, performed that surgery a few days later. Soon after, Brandon went home.
The importance of pulse oximetry screening
The outcome likely would have been far different if Brandon had not been screened for congenital heart disease so soon after birth. Pulse oximetry screening, the quick, painless and inexpensive test that saved his life, has been mandatory for babies born in New Jersey hospitals since August 2011. Pulse oximetry screening for newborns is now required by law in more than 35 states, including Pennsylvania.
If Brandon's condition hadn't been discovered so quickly, says his cardiologist, Aaron Dorfman, MD, "there's a reasonable chance he could have suffered neurological injury or died suddenly at home."
Instead, Brandon, now 2 ½, is thriving. He loves to play sports and go to the playground, and Dr. Dorfman has continued to follow his progress during regular checkups at CHOP's Specialty Care Center in Voorhees, NJ. Soon, Lorretta and Mamadou will be transitioning Brandon's care to a cardiologist in Seattle, where the family is moving later this summer – but they will always be tremendously grateful to the team at CHOP.
Originally posted: March 2011
Updated: April 2013