Thirty-year-old Joanna has been a patient of The Children's Hospital of Philadelphia all her life. 
Diagnosed with transposition of the great arteries (TGA) as an infant, she had four surgeries and countless other procedures at CHOP. She returned to the Hospital for care even after she moved to Alaska, where she works as an elementary school teacher.
In 2010, she turned to her CHOP team once again as she prepared for another major event in her life: her first pregnancy.
A smooth transition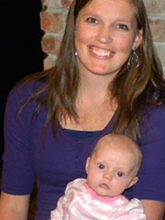 With the help of her CHOP cardiologist, Marie Gleason, MD, Joanna transitioned her care to the Philadelphia Adult Congenital Heart Center. The joint program, run by CHOP and Penn Medicine, provides expert, multidisciplinary care for adults with congenital heart disease (CHD).
During her appointments with Yuli Kim, MD, the center's director, Joanna learned that although she was considered very high risk — she has a severe heart arrhythmia and had a pacemaker implanted at CHOP in early 2012 — pregnancy was definitely something she could consider.
Pregnancy is an option
Dr. Kim and her team at the Philadelphia Adult Congenital Heart Center see many women like Joanna each year. Dr. Kim speaks to all of her cardiac patients of childbearing age about family planning, outlining the risks pregnant women with CHD — and their babies — face.
For some women with CHD, Dr. Kim says, pregnancy is clearly contraindicated. But for most, it's an option.
"The research and literature suggest that many of these women do well," she says.
In any case, these are intense and emotional discussions.
"We're not just talking about a woman's heart — we're talking about her ability to have a family," says Dr. Kim. "And having a family is the ultimate declaration of life — that you are a survivor, that you've made it."
An experienced team
The team at the Philadelphia Adult Congenital Heart Center has vast experience caring for pregnant women with CHD, who present special clinical challenges and face unique risks.
Dr. Kim worked with a multidisciplinary team — including high-risk OB/GYNs at the Hospital of the University of Pennsylvania (HUP) — to ensure that Joanna's pregnancy and delivery were as smooth and uneventful as possible.
Joanna moved temporarily to her parents' house in northeastern Pennsylvania when she was 27 weeks pregnant and traveled to Philadelphia every few weeks to see Kim and the OB/GYN team at HUP.
A fetal echocardiogram performed by the Fetal Heart Program team at CHOP showed no problems with her baby girl's heart — and the pregnancy, Joanna says, was stress-free.
"I felt so good and was doing so well," she says. "Once I knew her heart was OK, I really wasn't worried."
Baby Anja is born
On Sept. 21, baby Anja was born at the Hospital of the University of Pennsylvania. It was a normal vaginal delivery at full term — just what Joanna and her husband, Austin, had hoped for.
Joanna's successful pregnancy is a testament to the extraordinary level of care CHOP provides — and to how far care for patients with CHD has come. Patients who at one time would have faced terrible odds can now have full, fulfilling lives — and the Cardiac Center team is right there with them, every step of the way.
"The care we provide doesn't stop when a patient turns 18," says Dr. Kim. "It continues on and on."

Originally posted: January 2013