Living with ulcerative colitis was no picnic for Josh, but with the help of his caregivers at The Children's Hospital of Philadelphia — and his own indominable spirit — he's traveled through the worst. Today, Josh shares his story and planning for his best future.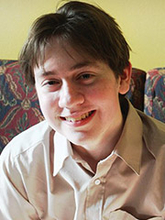 When I first arrived at The Children's Hospital of Philadelphia, I was instantly excited. I know that excited doesn't seem like the right word when you're battling a severe case of ulcerative colitis, but I've always been an optimist. 
I was excited because CHOP seemed like the "Disney World of Hospitals." All the staff members were very kind and had a great sense of humor. I could see colorful lights outside my window, and watch the colors change from blue to green to yellow to purple.
I didn't feel like I was a patient at a hospital, but more like a person who was temporarily sick and hanging out with cool people (who also happened to be amazing caretakers of my health in every way).
Dealing with GI disease
Having a major gastrointestinal disease has not been a cakewalk. I took my entire 11th grade year off to focus on recovering from ongoing flares. I attended online school for two years. Eventually, the inflammation of my digestive tract got too severe, and we agreed with doctors to have a total colectomy.
After the surgery, I felt great for about one month.
Then, I started having very severe stomach pain. The illness was diagnosed as Crohn's disease, which is similar to colitis, but now it had the potential to cause inflammation along the entire digestive tract (rather than just the large intestine).
This all happened when I was 16, when most of my peers had very different concerns. 
But you know what? I'm OK with my life. Actually, I'm incredibly happy with it. 
A care team like no other
The inpatient stays along my journey weren't as difficult as you would think. Because of the great CHOP staff, I have so many great memories!
Take, for instance, when the Phillies won the World Series in 2008. When Brad Lidge threw that final pitch to win the Series, I started screaming and running laps around my Hospital room. I heard one of my good friends, a nurse, running down the hallway screaming "PHILLIES!!" I immediately unplugged my IV pole, ran out into the hallway, and we had the greatest victory hug the world will ever know.
How about a Hospital karaoke party? When I was asked to come in for a blood transfusion and overnight observation, I was thrilled. Thrilled? Yes, thrilled. Most of my hospitalizations were more than 10 days long, with two to three blood transfusions. This short visit was a cause for celebration!
I ordered food, visited the nurse's station and generally had a great time! I saw two nurses holding a karaoke machine, and I was immediately intrigued. It was as I had thought: They were planning a karaoke party in another patient's room. I enthusiastically joined in, and we had an amazing time! You haven't truly lived until you've sung and jammed out to Alicia Keys' "If I Ain't Got You" during an overnight hospitalization.
'Where pain resides, there is also love'
On my 17th birthday, nurses and child life specialists collaborated to give me a surprise birthday present. I honestly had no idea.
Rumor spread that my favorite basketball player was Andre Iguodala. On my birthday, I received a giant cardboard cutout jersey of his, with a whole bunch of get-well wishes, signatures and happy birthday messages from CHOP staff, who I had come to love as family.
Every time I look at that jersey, I am reminded that where pain resides, there is also love.
In my case, the pain was the arduous journey throughout my Crohn's disease. The love was the care I received from the CHOP staff. I would not trade this experience for anything, and I'm incredibly lucky to live 35 minutes away from the greatest hospital in the world.
Planning for the future
These days, I'm a college freshman, majoring in psychology. In my free time, I practice ballet, study Japanese, and read a ton of books.
CHOP didn't just save my life; the staff helped me through my illness as a teenager, and helped me grow as a human being.

By Josh, June 2013