COVID-19 Updates for the Division of Plastic and Reconstructive Surgery
Updated May 8, 2020
As we navigate this challenging, stressful time together, we want you to know that we in the Division of Plastic and Reconstructive Surgery are here for you. There are many precautions we are taking to support broader public health efforts to reduce opportunities for spread of the coronavirus (COVID-19). We are monitoring the situation closely and adapting our policies as needed to ensure the safety of our patients, families and staff. Please note this is a rapidly evolving situation. We will be updating our community regularly with key information.
Read below for more details about our current efforts to reduce the risk of inadvertent exposure to COVID-19:
Outpatient/clinic visits
At this time, our providers are scheduling in-person visits for essential appointments that we are not able to effectively conduct through a telehealth platform. We are taking every precaution to make sure our in-person visits are safe and comfortable for all involved. This may mean a few extra questions about any symptoms or travel as well as some changes to our waiting rooms and common space to strictly adhere to safe, social distancing policies.
Telehealth video visits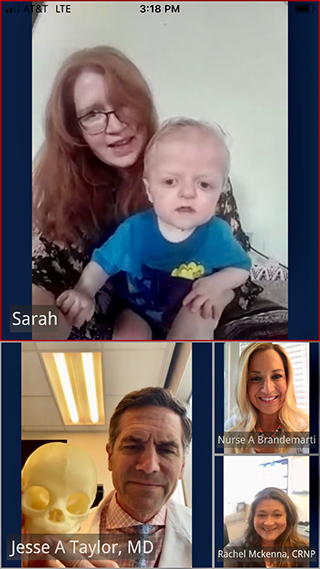 The Division of Plastic and Reconstructive Surgery is actively using video visits as an alternative to most in-person visits. This technology ensures that social distancing does not affect your ability to receive the expert, collaborative care your family deserves. Video visits are an option for all of our patients and families, both established patients and new patients. From the comfort of your own home, we are able to make or review treatment plans, answer any questions or concerns, complete all of the necessary paperwork for surgery and even include other members of the care team when a multi-disciplinary approach is required. Call us at 215-590-2208 and our team will schedule the visit and walk you through the simple technology set up to ensure your visit goes smoothly.
There are some patients who will need an in-person visit to ensure we have the all of the information we need to care for your child. If a video visit is not appropriate for your specific situation, we will work with you to plan a safe, productive in-person visit.
Elective surgeries/procedures
The safety of our patients, families and staff is our top priority. As part of our efforts to reduce the risk of inadvertent exposure to COVID-19, CHOP is changing the way we schedule surgeries and procedures to minimize any exposure risks. Our waiting rooms, recovery areas and arrival times have been carefully updated to minimize your exposure to anyone other than essential personnel.
If your child requires surgery, we will require testing for COVID-19 before undergoing the procedure. Testing 1-2 days before the scheduled procedure is recommended and can be done at a CHOP site with a referral from your care team. We can work with you to make this testing as convenient as possible. If your child is concerned about the test, we can ask our Child Life Specialists to help them prepare in age appropriate ways.
Second opinions and new patients
The Division continues to accept new patients and requests for second opinions at this time. Depending on the specific problem, the consultation could be in person, or through telemedicine, as medically appropriate. If you're seeking a second opinion or looking to refer a new patient, call us at 215-590-2208.
Additional information during the COVID-19 pandemic
IMPORTANT REMINDER: If you or your child develops a fever and symptoms of respiratory illness, contact your medical provider immediately. Before you go to a doctor's office or emergency room, call ahead and tell them about your/your child's symptoms. They will coordinate safe testing and treatment and get you the care you need.
Urgent care and emergencies
Our four pediatric urgent care locations remain open with regular hours. Urgent care video visits are also now available as an option for families. Our Emergency Department is open. Please only visit our ED if your child is experiencing a true emergency.
Visitor restrictions
Restricted visitation procedures are in place for all appointments and hospital visits. To keep our patients, families and staff safe from COVID-19 and other respiratory viral infections, we ask you to reduce the number of parents or caregivers as much as possible to all Children's Hospital of Philadelphia sites.
Our current COVID-19 restricted visitation policy is that no more than two healthy parents or caregivers (18 and over) are allowed to visit patients in the hospital or accompany patients to any appointment at a CHOP location. Parents and caregivers cannot be ill (must be without fever, cough or other concerning symptoms), nor have testing pending for COVID-19. Siblings are not permitted, with the exception of breastfeeding infants. These procedures are in place during this rapidly changing situation as the prevalence of COVID-19 continues to increase in our community.
Protective masks
If you visit any CHOP facility at this time, you'll notice that all employees are wearing protective masks. We are taking this extra precaution to prevent possible COVID-19 exposure between staff members. By staying healthy, we'll be sure to be here when you need us.
Based on CDC recommendations for the public, CHOP now asks that all parents and caregivers visiting a CHOP facility wear a mask as an extra layer of protection. Upon arrival, parents and caregivers will be provided with a disposable mask along with a storage bag and instructions. We appreciate your support in wearing a mask to help keep everyone safe.
Helpful resources
We know this is a challenging time and we thank you for your understanding and partnership in keeping our patients, families and staff safe.