CHOP Specialty License Plates
The well-being of our patients, families and staff is our utmost priority. In light of COVID-19 and the now implemented working arrangements, we are unable to process applications at this time. We apologize for any inconvenience and look forward to bringing back license plates at a later time.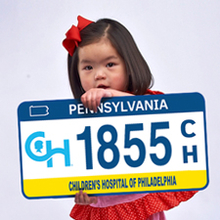 License to Thrive!
Celebrate your dedication to The Children's Hospital of Philadelphia in your daily travels. CHOP specialty license plates are available exclusively to Pennsylvania residents. And every plate helps! With each purchase, a portion of the proceeds will benefit vital programs in the communities we serve.
Cost and beneficiary
The license plate costs $45. All of the proceeds go to programs that CHOP offers in surrounding communities through the CHOP Cares Community Fund. And if you make an additional contribution above $45, all the extra funds will go to CHOP.
As of July 17, 2014, PennDOT is now offering optional personalization of these specialty license plates. To personalize a plate, a minimum fee of $150 is required. In section D of the application, personalized registration plate choices may contain up to five letters or numbers in combination. Only one hyphen or space is permitted, but not both. (If no hyphen or space is requested, one block will remain blank.) No other special characters are available.
You may give as much as you like in excess of the minimum plate price ($45 for a CHOP specialty plate or $150 for a personalized plate). Your additional donation will benefit CHOP.
*Note: If this application looks different than the one you may have received in the mail, both are currently accepted by the state. If you would like to personalize your plate, however, please use this version.
Purchase a plate
Complete the required information
Send the form with a check, made payable to the CHOP Foundation, to: The Children's Hospital of Philadelphia Foundation Lockbox
, PO Box 781352, Philadelphia, PA, 19178-1352. To pay by credit card, download and complete the gift form and mail it in with your signed application.
When will I receive my plate?
Please expect to receive your CHOP plate 8 to 12 weeks after submitting your application. If you have any questions regarding the status of your application, call 267-426-6500.
Other ways to support the CHOP Cares Community Fund
If you are not interested in purchasing a CHOP specialty license plate but would still like to support the CHOP Cares Community Fund, you may do so by making your gift online today. By investing in the CHOP Cares Community Fund, your contribution will directly support programs and projects in the community that help local kids and families thrive. Go the extra mile and make a gift today.
Have more questions?
View our FAQ sheet here. If you can't find your answer in the FAQ sheet, please call 267-426-6500.
*Note: At the moment, the state of New Jersey is not accepting any new organizations to enter their specialty license plate program. We are monitoring their program and will apply as soon as their campaign re-opens.