Without the service and enthusiasm of our volunteer Employee Campaign Cabinet, the For Tomorrow's Breakthroughs campaign would not be possible. We are grateful to the many employees — representing departments and disciplines across the Hospital system — who believe in our mission and have pledged to help us attain our goals. Learn why this campaign matters to them.
Foundation Leadership
Robyn Lorfink
Executive Director, Campaign & Strategic Initiatives
lorfinkr@email.chop.edu
Cabinet Members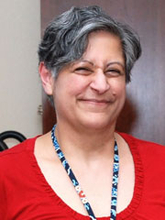 I've been at CHOP for 21 years now, so CHOP has been a huge part of my life. I'm proud to work at a place where so many amazing things happen, from medical miracles to programs and events designed to improve the health and wellbeing of our patients and the children and families in the CHOP Community. I give because it's impossible for me to work here and not want to make a financial contribution to support the mission. I've learned, from past fundraising campaigns, how much a difference donations from employees can make, so that makes me want to continue to give.
Esha Bhatia, Principal Strategic Consultant,
Information Services
I take great pride in being an employee at CHOP. I value the mission's core elements of providing excellent patient care, conducting innovative research, and facilitating quality education. I also trust CHOP to care for my daughter, who was diagnosed with type 1 diabetes and I find comfort knowing that her team is committed to caring for my daughter's whole being and our entire family. As a senior director of a department that relies almost exclusively on philanthropy, I value every donation. I'm passionate about supporting CHOP's efforts to improve treatment and find a cure for type 1 diabetes and I give in my daughter's honor because I know every contribution makes a difference.
Elana Brewer, Senior Director,
Child Life & Volunteer Programs
Anytime I get the chance to positively impact the lives of children, I take it, and my involvement in this campaign is an example of that. I'm focused on reaching as many donors as possible. The CHOP mission is very important to me, not only as an employee, but as a community member and parent. My involvement on the campaign cabinet has dual satisfiers: first, my work experience is enhanced by engaging in an initiative outside of my daily tasks, and second, I'm able to share the message of giving with potential donors and hopefully inspire them to co-invest. I hold myself personally accountable to display CHOP's values and to donate financially to the institution. In so doing, I know I'm helping to foster breakthroughs every day and provide resources to research further discoveries and provide world-class care.
Gilbert Davis, AVP and ACIO IS Business Ops/HIM,
Information Services
I decided to work at CHOP for one primary reason: it is a mission-driven organization grounded firmly in its purpose to serve children from around the world, providing them with the highest level of care possible. As the primary Public Relations liaison for the Foundation, I often interact with members of the media, as well as executive and clinical staff, so being on the employee cabinet keeps me closely connected to the campaign and allows me to help to spread the message articulately and clearly.
Emily DiTomo, Public Relations Manager,
Marketing & Public Relations
The strength of the children and families in our care is humbling to witness and inspires me to bring my very best work to the table every day. Part of my role here as a fundraiser is to ask others to consider giving to the Hospital, so as soon as I started in 2011, I made a pledge of support. This was important for me to do because when I ask someone to give, I can share with them that I give, too. I've found that employees here are so generous and many invest beyond their hourly commitment which is an encouraging and powerful message to the outside community.
Molly Force, Assistant Director,
Direct Marketing, Development
To me, working at a place like CHOP is a privilege. I've been fortunate to spend my career in institutions where I've felt connected to and motivated by the mission. I've never had to find the motivation to work hard when I know that I'm contributing to the advancement of healthcare for children around the world. I'm investing in the campaign to show my appreciation for CHOP and to strengthen the connection I feel to our shared purpose. I especially hope to raise the profile of the philanthropy among our research employees — the work taking place within the Research Institute is integral to CHOP's larger mission and I hope my colleagues will join me in supporting that mission.
Matthew Hodgson, Assistant Vice President,
Research Compliance & Regulatory Affairs
I've been a CHOP staff member for 37 years so I've grown up here, both personally and professionally. I've seen a lot of changes but the miracles are consistent. I love that my work with the Homeless Health Initiative transforms the lives of children and families who are experiencing homelessness. Donating to CHOP and my involvement with the campaign gives me the chance to share with others the great work and the breakthroughs that happen here every day.
Karen Hudson, MSW, LSW, Program Leader,
Homeless Health Initiative
I came to Children's Hospital of Philadelphia because the people here do good work. I knew that CHOP's healthcare professionals set the gold standard for policies, practices and procedures. Today, I feel so fortunate to be in my role because I get to promote all kinds of success stories about how teams are finding better ways to accomplish their goals. It's because of the individual stories and our collective spirit of innovation that I am inspired to be involved in a campaign that supports our wonderful organization.
Erin James, Manager, Internal Communications,
Human Resources
In my role, I serve as a resource for all new employees and I'm able to communicate messaging during the onboarding process to each and every staff member at the beginning of their journeys. I love working here, but CHOP means much more than a place of employment for me – I'm also a CHOP parent. My 6-year-old son, Noah, is on the autism spectrum and I'm passionate about fundraising and volunteering for the Center for Autism Research (CAR).
Donna Krammer, Program Manager Onboarding,
Human Resources
I've seen first-hand how the work at CHOP has helped make very difficult and stressful situations a little less troubling for patients and their families. I'm involved with the campaign because I want to help ensure that CHOP is able to continue making research discoveries and continue to perform breakthrough procedures and treatments. The donations received through our fundraising campaign will continue to give us the resources needed to continue to make medical breakthroughs
Gmerice Welch, Billing Supervisor,
Finance
Excellence in clinical care and pre-eminence in research are essential components of CHOP's mission. Our patients and their families rely on and expect us to engage in meaningful and impactful research projects that drive the development of new treatments, therapies and cures for children. Traditional sources of research funding are shrinking. More than ever it is imperative that we identify alternative ways to fund and sustain this mission critical work. My involvement in this campaign and my contributions to previous giving campaigns reflect my ongoing commitment to ensuring that CHOP has the resources to support our bench-to-bedside philosophy to improve child health.
Wendy Williams, Director of Research Training and PostDoc Affairs,
Research Institute
Additional Cabinet Members
Jennifer Long, Director of Research Communications,
Research Institute
Shalona Merceir, Practice Manager, Family Care Center Health & Literacy Building,
CHOP Care Network-South Philadelphia
Galena Mowday, Credentialing and Response Specialist,
Finance
Steve Wilmot, Senior Director of Practice Management Services,
CHOP Care Network