Liver Transplant in the Midst of COVID-19: Keeping Briana Safe
Published on
Angela, Calvin and their daughter Briana have experienced how Children's Hospital of Philadelphia (CHOP) has managed its response to the COVID-19 pandemic from several different perspectives: a specialty care visit, a nine-week hospital stay for a life-saving surgery and a short inpatient stay as an immunocompromised patient. Angela has this advice for other families:
"It's safe. Don't be afraid to go to CHOP," she says. "It's normal to be concerned at the beginning, but everyone knows what they're doing. CHOP is such a wonderful hospital, I wouldn't go anyplace else."
Calvin chimes in: "They follow all the best practices — social distancing, wearing face masks, cleaning all the time. We saw it all."
And the best testament is Briana, who four months after undergoing a liver transplant, is thriving for the first time in her 15-month-old life.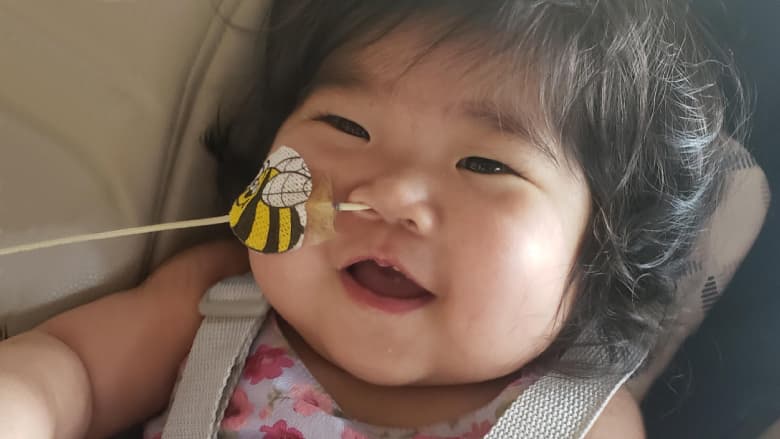 Help Us Transform Lives
Generous gifts allow the hospital to quickly react to the ever-changing needs of our patients and families in real time.
Biliary atresia limits liver function
When she was about 10 weeks old, Briana was diagnosed with biliary atresia, a condition in which the bile ducts outside and inside the liver become scarred and block the flow of bile into the intestines. When the bile builds up in the liver, it damages it and the liver can't function.
Her home hospital referred her to the Fred and Suzanne Biesecker Pediatric Liver Center at CHOP, and she underwent a Kasai procedure to restore bile flow. It worked for a couple of months, but, unfortunately, bile began to back up in her liver again. Without bile in her intestinal tract, Briana couldn't absorb all the nutrients from her food as she needed to grow.
"Her belly was like a balloon, and her arms, face and legs were skinny," Angela says. "She was yellow all over and losing weight."
It became clear Briana would need a new liver; she was put on the transplant list in February. She came under the care of CHOP's Liver Transplant Program, one of the most active liver transplant programs in the country.
As she waited, her condition worsened. She needed several procedures to remove fluid from her abdomen. She had a nasogastric (NG) tube inserted so special formula could be pumped directly into her stomach, to try to boost her weight. She also suffered bleeding in the veins in her esophagus because of her liver failure and required an endoscopy.
Treatment couldn't wait
Because doctors in the Liver Center needed so check her progress, Briana's appointment was essential and couldn't be postponed during the first couple months of the pandemic. The clinic appointment to check her progress, in March, was the first time the family encountered CHOP's COVID-19 protocols.
"Calvin had to stay in the car with our 5-year-old, Felicity, because they were limiting people in the building. We understood they were trying to protect us," says Angela.
With the goal of improving Briana's nutrition, doctors admitted her to the hospital on March 25. Briana was tested for COVID-19, as are all inpatients so any child with a positive result can be cared for in a unit isolated from other patients.
"We were supposed to be in for a week, but it turned into nine weeks," Angela says.
"

At first, I was nervous, but I soon learned that CHOP was one of the best and safest places to be.

"
Since Briana had been an inpatient before, Angela had before and after pandemic experiences to compare. During this stay, fewer clinicians came into the room. The room was cleaned more frequently, and staff explain how they were disinfecting as they cleaned. The Wawa beverage cart still made its rounds, but drinks were offered through the doorway instead of the volunteer entering the room. Instead of helping herself to a snack from the nutrition room, Angela had to request something from the nurse, who would bring it to her. Universal masking became widespread, then universal for all staff and family members.
"Mostly, it was quieter," Angela says. Parents stayed in their child's room for the most part instead of meeting up in common areas. There was less overall hubbub.
The call, the transplant, the recovery
At 5 a.m. on April 21 — as the height of the pandemic in Philadelphia continued outside — the family received word that a liver had become available from a donor who passed away. CHOP's heightened safety measures ensured it was safe for Briana to receive a new liver. After an eight-hour transplant surgery, Briana was on her way to a near-normal life.
Briana with Drs. Loomes and Shah In a couple short weeks, Briana's color became normal. Angela and Calvin were taught how to follow her medication regimen of eight daily medicines, including immunosuppressants to limit the chance she would reject the donor liver. She got to go home to Central New Jersey in mid-May.
Briana had another, briefer inpatient stay in June when she contracted rotavirus, an intestinal bug, and has been back for several follow-up clinic visits as gastroenterologists Kathleen Loomes, MD, Co-director of the Liver Center and a leader in the Liver Transplant Program, and Amit A. Shah, MD, closely follow her progress.
"They ask us questions about where we've been and who we've been in contact with every time we come for an appointment," Angela says. "Everyone is always wearing a mask, staff, families, even some patients. I feel safe coming in."
More weight, more smiles
Briana has been gaining weight and shows no sign of rejecting her new liver. Her scar has healed well. She is standing with support, crawling, singing and smiling.
"She's a totally different baby now," Angela says. "She went so many months without smiling because her belly was so uncomfortable. She's smiling like crazy now.
"In so many ways I hate 2020. But one good thing has come out of it: Briana's transplant. She's going to have a normal life because of CHOP."