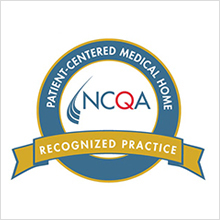 This practice has been awarded recognition by the National Committee for Quality Assurance Patient-Centered Medical Home Program. We are delighted that you are considering or have chosen CHOP's Nicholas and Athena Karabots Primary Care Center, Norristown, to be your child's pediatricians. We know how important choosing a doctor's office can be, and we are dedicated to providing you and your children with the highest quality of medical care possible.
Part of the CHOP Care Network, we provide comprehensive care from birth through young adulthood. As a practice, we strive to be compassionate, caring and kind. It's our promise to be here for you as your child grows and develops.
Our doctors have staff privileges at Children's Hospital of Philadelphia (CHOP) and Bryn Mawr Hospital. If you are expecting a baby and deliver at Bryn Mawr Hospital, we are happy to see you following your discharge from the hospital after your child is born. If you deliver your baby at another hospital, we can see you in our office as directed after discharge by the hospital.
We accept most insurance plans, but we ask you to contact our office to check if we participate.
We encourage you to call us with any questions or concerns that you may have and would be honored to partner with you in the care of your children.
About the practice
WE'VE MOVED! CHOP's Nicholas and Athena Karabots Primary Care Center, Norristown, is now located at: 1437 DeKalb St., Suite 100, Norristown, PA 19401. Our new space is brighter and more modern than our current office, and allows us to offer more appointments and expanded services, including behavioral health and social work, to better meet your child's needs. If you have any questions, don't hesitate to reach out to your care team. Our phone and fax numbers are the same: 610-272-4550 (phone) and 610-279-4533 (fax).
Our practice is staffed by two board-certified pediatricians who are fellows of the American Academy of Pediatrics (AAP).
We offer same-day sick appointments if your child is ill. We also see your children for routine well visits as recommended by the AAP (first newborn visit, visits at 2, 4, 6, 9, 12, 15, 18 and 24 months; then on a yearly basis thereafter).
Our nursing staff is trained to answer routine questions concerning childcare and common illnesses. When you call, the nurse will help you determine the best approach for your child, whether it is phone advice or an appointment with your pediatrician. For more complex problems, the nurses consult with the pediatricians. We are always here if you need us and encourage you to call with any questions or concerns that you may have.
Our physicians have hospital privileges at Bryn Mawr Hospital and Children's Hospital of Philadelphia. We see newborn babies following discharge for their initial visit.
If your child needs to be admitted to the hospital for any reason, we would recommend for your child to be seen at Children's Hospital of Philadelphia (CHOP) to care for your child. Our physicians maintain a close relationship with these doctors during your child's admission.
Office services
We offer vision and hearing screening, an on-site lab for screening hemoglobin (blood count), lead screening, rapid strep throat testing, urinalysis, parent education materials, and many other services. We can also perform minor surgical procedures such as drainage of abscesses, treatment of cuts, removal of sutures, and treatment of minor orthopaedic injuries.
Visits
All visits are by appointment only, including well visits, which must be scheduled in advance, and same-day sick visits.
Please call as early in the day as possible for sick visits. We do try to schedule the morning and afternoon appointments first, prior to scheduling evening appointments, so that we can accommodate the children that may get sick later in the day. Follow-up appointments are scheduled before 4 p.m.
If you need more than one child seen, please let us know when you schedule the sick visit.
At your child's 18- and 24-month well visit, our staff will use a screening called M-CHAT (a developmental screening questionnaire) as part of the visit.
If you have a change in address, phone number or insurance information, please notify our receptionist. All patients younger than age 18 must be accompanied by a parent or authorized adult guardian to be evaluated by a clinician.
Late policy
To service all of the scheduling needs for our patients, we ask that you arrive on time for your appointment. If you arrive more than 15 minutes late for your appointment we may ask you to reschedule.