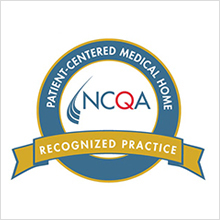 This practice has been awarded recognition by the National Committee for Quality Assurance Patient-Centered Medical Home Program. At CHOP Primary Care, South Philadelphia, we are dedicated to providing pediatric care of the highest quality, delivered with compassion, respect and true affection for children and their families. We aim to preserve the personal quality of our relationship with our patients by asking each family to select one primary clinician/provider who coordinates their care and develops a relationship over time. This relationship will be maintained as your child grows unless you request a change.
If your primary physician is temporarily unavailable, especially for acute (sick) visits, one of the others will always be on call and have access to your child's records. The clinicians freely consult with each other on complicated cases.
We see ourselves both as a resource to parents for on-going education as well as advocates for the health care needs of children and adolescents within our community.
About the practice
All of our physicians are board-certified pediatricians and members of the American Academy of Pediatrics. Our physicians are also active members of the medical staff at Children's Hospital of Philadelphia.
For children and adolescents requiring hospital admission, we maintain close contact with the pediatric staff at all of the local pediatric hospitals. Historically, most of our patients choose to use the facilities of Children's Hospital of Philadelphia.
We are also proud to be one of a handful of pediatric practices participating in the Governor's Chronic Care Initiative. Over the years, our practice has successfully improved care for our patients with asthma.
Visits
All visits are by appointment only, including well visits, which must be made in advance, and same-day sick visits. Please call as early in the day as possible for same-day sick visits.
If you have a change in address, phone number or insurance information, please notify our receptionist.
Read more detailed appointment information to prepare for your visit.
Broken appointments
We continuously try our best to respect your time by seeing your child as promptly as possible. We appreciate your help in being on time for your appointment.
If you are unable to keep your appointment, please call in advance to cancel and reschedule. This helps both our office and our families.
If a patient misses an appointment without notification we consider this a "no show" appointment. A letter will be sent to the family explaining our policy. Our well-visit appointment schedules are booked in advance and if you should need another appointment after a no show you will be offered our first available appointment which can be several months out. Continuity of care and timely visits are of utmost importance for you and your child, please call us if you cannot keep your appointment.
Well-visit schedule
We will be able to see your child for well exams and for sick visits. Routine well visits are scheduled to provide complete assessment of the healthy child. Usually immunizations or lab studies are included. Your child should be seen for well exams at the following ages:
3-4 days for weight check with our nurses
2 weeks for the first full exam with a clinician
2, 4, 6, 9, 12, 15 and 18 months
2 years, then once a year until age 19
We offer vision and hearing screening, an on-site lab, tympanometry, spirometry, a comprehensive asthma program, parent education materials and many other services. Read about additional services available at CHOP Primary Care, South Philadelphia.
CHOP Primary Care, South Philadelphia is also one of the two locations offering PriCARE Parenting Program training groups. PriCARE is a free, six-week group training program for caregivers that helps to improve children's behaviors and strengthen the caregiver-child relationship.