CHOP Announces the Buerger Center for Advanced Pediatric Care
Published on in CHOP News
June 25, 2013 — The Children's Hospital of Philadelphia today announced the largest charitable donation in its history: a landmark $50 million gift from the Buerger family toward the construction of a new state-of-the-art outpatient facility. Currently under construction on the Hospital's Main Campus in West Philadelphia, the building will be named the Buerger Center for Advanced Pediatric Care.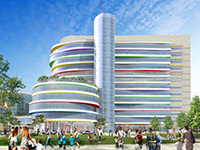 Advanced Care Center exterior from Civic Center Boulevard
This is not only the largest gift in the Hospital's history, but also one of the largest naming gifts for a building in Philadelphia. The family gift, made by Alan and Constance Buerger, Reid and Krista Buerger, and Grant Buerger, marks a milestone in the Hospital's $100 million capital campaign to fund the new outpatient facility.
"We are extremely grateful to the Buerger family for this transformational gift, which will ensure that The Children's Hospital of Philadelphia continues to provide the highest level of pediatric care available to children and families in Philadelphia and around the world," said Mortimer J. Buckley, chairman of the Board of Trustees at The Children's Hospital of Philadelphia.
Currently under construction, the 700,000 square-foot Buerger Center for Advanced Pediatric Care will feature 12 floors of integrated clinical care facilities and patient, family, and visitor amenities. At its projected opening in 2015, it will be the most advanced outpatient pediatric medical facility in the world, designed for the ideal patient experience.
Spacious waiting rooms for families will be filled with natural light and dotted with "wait, play, learn" areas to provide patients and their siblings a venue for educational toys and games. A relaxing 14,000 square-foot roof garden will afford space for recreation as well as rehabilitation sessions, while a 2.6-acre landscaped outdoor plaza will offer a safe open area for play, entertainment and emotional recharging.
Advanced electronic systems will reduce wait times for appointments and expedite registration and checkout, while fully integrated electronic health records will bring the facility closer to a paperless system.
"The Children's Hospital of Philadelphia is a world-class institution that holds a special place in our hearts. It is an honor to invest in a project right here in Philadelphia that has the ability to advance care and reshape pediatric healthcare delivery for children worldwide," said Constance Buerger.
"As a patient family treated at The Children's Hospital of Philadelphia, we know the infinite value of having a world-class pediatric facility so close to home," said Reid Buerger. "As a parent, and as a member of the Hospital's Board of Trustees, I believe there is no better way to help ensure every child receives top medical care than to invest in a facility that will house the very latest medical expertise and technology."
Located on Civic Center Boulevard just south of the Children's Hospital's Main Building, the Buerger Center for Advanced Pediatric Care will be an integral part of its South Campus, an 8-acre, 2-million-square-foot complex on the site of the former Philadelphia Civic Center.
The 12-story, multi-phase building will allow the potential addition of another four floors for a total of 875,000 square feet, if called for in the future. The Buerger Center will be environmentally friendly, with a targeted LEED Silver certification from the U.S. Green Building Council. Five levels of underground parking will accommodate 1,500 vehicles, enough for the entire South Campus.
"The Buerger's $50 million investment represents a gift to innumerable children and families who come from the region, the nation and around the world for advanced outpatient care to be provided in this facility," said Steven M. Altschuler, MD, chief executive officer of The Children's Hospital of Philadelphia. "This facility, both technologically sophisticated and family-friendly, will revolutionize care for children."
Alan and Constance Buerger have been longtime donors to Children's Hospital. Together they founded Coventry, a global financial services firm specializing in longevity and mortality risk. Alan Buerger serves as the company's chief executive officer, while Constance Buerger is its president. They reside in the Chestnut Hill section of Philadelphia, PA.
Grant Buerger resides in Philadelphia, PA. He is a freelance writer.
Reid and Krista Buerger live in Ambler, PA. with their two children. Reid Buerger is a co-founder of Coventry, and Krista Buerger is executive vice-president. Reid Buerger joined the Hospital's Board of Trustees in September 2012.
South Campus overview
The South Campus Research Complex of The Children's Hospital of Philadelphia comprises nearly 8 acres of land, which includes both the Buerger Center for Advanced Pediatric Care and the Ruth and Tristram Colket Translational Research Building, completed in 2010.
The South Campus development culminates a far-reaching expansion of physical facilities at Children's Hospital beginning in 2001, which now doubles the size of the Hospital's Main Campus. It has been one of the largest private construction projects in Philadelphia over the past decade.
Buerger Center for Advanced Pediatric Care design and construction team
Principal architect: FKP Architects
Building Exterior and Public Spaces: Pelli Clarke Pelli Architects
Central Utility Plant: Ballinger
Landscape: Nelson Byrd Woltz Landscape Architects
MEP Engineer: Bard, Rao + Athanas Consulting Engineers, LLC
Structural Engineer: LeMessurier Consultants
Civil Engineer: Pennoni Associates, Inc.
Construction Manager: Turner Construction Company