CHOP Celebrates 1,000 Deliveries in Garbose Special Delivery Unit
Published on in CHOP News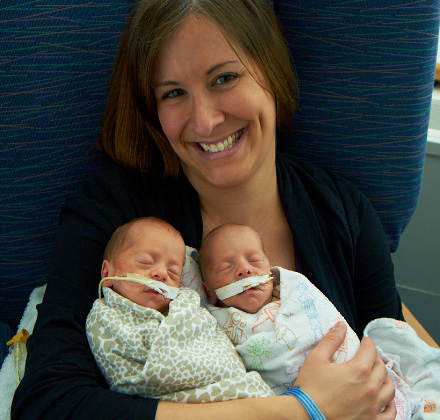 April 16, 2012 — Less than four years after opening the Garbose Family Special Delivery Unit, the world's first birth facility exclusively for mothers carrying babies with known birth defects, Children's Hospital of Philadelphia (CHOP) celebrated 1,000 deliveries.
All babies delivered in the Special Delivery Unit are prenatally diagnosed with birth defects, such as spina bifida or congenital heart disease, and will either undergo fetal surgery to treat the condition before birth or need immediate specialized care or surgery after birth.
"Approximately one in 33 babies is diagnosed with a birth defect each year," said Julie S. Moldenhauer, MD, CHOP Maternal Fetal Medicine/Reproductive Genetics specialist and medical director of the Special Delivery Unit. "Traditionally, these mothers will give birth in one hospital, and their newborn will be transferred to a specialized pediatric hospital shortly after delivery. The Garbose Family Special Delivery Unit changed that by allowing for mother and baby to be simultaneously cared for at one institution by a team with great experience and expertise."
Center leaders had long-recognized the need for a comprehensive maternal-fetal center, believing that the ability to provide the complete spectrum of care within Children's Hospital would provide the best outcomes for patients. Because of their own experiences, the idea of creating a delivery unit within a pediatric institution struck a chord with Hospital Trustee Lynne Garbose and her husband Bill. The Garbose family provided the lead philanthropic gift to create the Special Delivery Unit.
The Special Delivery Unit opened in 2008 and is the delivery arm of CHOP's internationally recognized Center for Fetal Diagnosis and Treatment, which has been providing care for women expecting babies diagnosed with fetal conditions for more than 16 years. Established in 1995, the Center is the largest and most comprehensive fetal program in the world, having welcomed more than 12,000 expectant mother from all 50 states and more than 50 countries.
"When we opened the Garbose Family Special Delivery Unit, we anticipated that this unique, multidisciplinary approach would improve outcomes for mother and baby before, during and after birth," said N. Scott Adzick, MD, surgeon-in-chief at CHOP and medical director of the Center for Fetal Diagnosis and Treatment. "We are proud and excited to reach this milestone less than four years after opening."
The 1,000th delivery
Like approximately 40 percent of the babies born in the Special Delivery Unit, the 1000th delivery was a newborn prenatally diagnosed with a congenital heart defect.
Kathy Banks of New Britain, PA, found out nine weeks into her pregnancy that she and her husband, Andrew, were expecting twins. Their 20-week ultrasound raised some concerns about one of the twin's hearts and their doctor quickly referred the Banks to CHOP's Fetal Heart Program for further evaluation.
Once at CHOP, the team found that although the Banks' daughter was developing normally, their son had Tetralogy of Fallot, a serious structural malformation of the heart.
Although the news was difficult to receive, the prenatal diagnosis allowed the Banks to adjust and prepare for their son's arrival. It also provided valuable time for the team at CHOP to formulate a plan for the baby's delivery and postnatal care.
Kathy was carefully monitored by CHOP's Center for Fetal Diagnosis and Treatment team and Fetal Heart Program for the duration of her pregnancy. On March 19, during a regular prenatal appointment, she asked about scheduling her upcoming cesarean delivery and was told it was too soon — she wasn't due for another eight weeks and the goal was to deliver the twins as close to full term as possible. However, no sooner did she and her husband return home that day, than Kathy's water broke. The couple turned right around and drove back to Philadelphia.
Obstetrician Jodi Slepian, MD, and her team performed a cesarean delivery in the early hours of March 20. Angela Rose and Liam Andrew Banks were born within seconds of each other, both only weighing a little over three pounds. The multidisciplinary neonatal team was ready and waiting to care for both newborns.
Liam, the baby with the congenital heart defect, was born pink and active. The team ensured that his condition was stable. After Kathy and Andrew were able to see both babies briefly, the twins were taken to CHOP's Harriet and Ronald Lassin Newborn/Infant Intensive Care Unit to be treated for prematurity. Kathy recovered just a few floors away in the Special Delivery Unit where she could visit her twins as often as she felt up to it.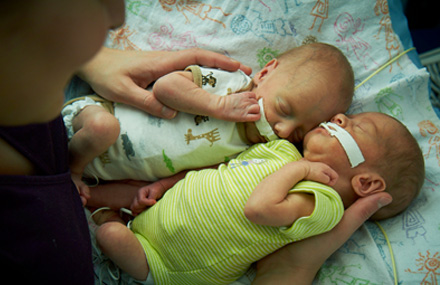 There, the babies continued to grow and gain strength. A few weeks later, Liam had surgery to repair his heart.
"Babies diagnosed with birth defects in utero and their moms need specialized obstetrical services, including prenatal and delivery care," said Jack Rychik, MD, director of the Fetal Heart Program. "Without the Special Delivery Unit, and the immediate care offered by experienced specialists in pediatric cardiology and neonatology all under one roof, the Banks' outcome could have been much different."
"On the occasion of the Special Delivery Unit's one-thousandth delivery, we are so proud to be associated with the dedicated, multidisciplinary team of physicians, nurses and other staff who work there," said Lynne Garbose. "We remember vividly the afternoon many years ago when Dr. Adzick and Lori Howell laid out their thoughts and plans for the world's first Special Delivery Unit. We — and thousands of parents and their children — are so grateful for the team's vision, dedication and perseverance."
About the Special Delivery Unit
The unique labor and delivery unit was the first of its kind to exclusively care for babies born with a wide range of birth defects such as congenital diaphragmatic hernia, omphalocele, and gastroschisis, or genetic conditions and other fetal conditions unique to complicated twin pregnancies such as twin-twin transfusion syndrome. After delivery, the baby is treated immediately in the Harriet and Ronald Lassin Newborn/Infant Intensive Care Unit or the Evelyn and Daniel M. Tabas Cardiac Intensive Care Unit, while the mother recovers in a comfortable room nearby.
"Babies with special needs require very specialized and experienced care, both before and after birth — and so do their mothers," said Lori Howell, MS, RN, executive director of the Center for Fetal Diagnosis and Treatment. "This is our mission and our passion, we are constantly working to improve care, treatment and outcomes for these fragile babies and their families. The high volume of patients we see with incredibly complex, rare conditions makes all the difference. Our experienced team has treated hundreds — and, in some cases, thousands — of patients with a given diagnosis and knew that the addition of the Special Delivery Unit would allow us to provide the very best care for mom, baby and really the whole family."
The Special Delivery Unit is staffed by a highly specialized, multidisciplinary team that includes some of the world's most experienced experts in fetal surgery and therapy, including maternal-fetal medicine specialists, reproductive geneticists, obstetricians, surgeons, anesthesiologists, neonatologists, fetal cardiologists, genetic counselors, midwives, fetal imaging experts, social workers, child life specialists, respiratory therapists as well as advanced practice, obstetric, neonatal and operating room nurses. All are specifically trained to care for mother and infant pairs in which the baby is prenatally diagnosed with birth defects.
Special Delivery Unit nurses are not only highly experienced in labor and delivery care, but are specially trained in the unique needs of the Unit's patients, including mothers undergoing fetal surgery. They are also skilled in providing palliative and bereavement care for families facing the most difficult outcomes.
"As the field of fetal surgery and therapy continues to advance, specifically in light of our recent developments in fetal surgery for spina bifida, we are treating more and more babies before they are born. The Special Delivery Unit is a very important part of the comprehensive care our Center for Fetal Diagnosis and Treatment is able to provide," said Adzick.
The Special Delivery Unit is an alliance between the Center for Fetal Diagnosis and Treatment and the Fetal Heart Program at CHOP. Within the unit there is a stabilization room, located adjacent to two of the inpatient delivery rooms, where CHOP's world-class neonatology staff can be waiting to care for a baby born in distress. There are also two operating rooms equipped for cesarean sections and fetal surgery. A third operating room is a hybrid that can be used by both the fetal surgery and cardiothoracic surgery teams.
The Center for Fetal Diagnosis and Treatment and Fetal Heart Program outpatient services are housed adjacent to the inpatient area, and the outpatient area is staffed by a team of maternal-fetal medicine specialists, obstetricians, genetic counselors, nurses, midwives, radiologists, ultrasound and echocardiography technicians, sonographers and others, all dedicated to both mom and baby. When an expectant mother comes for an evaluation, she has a series of tests including a highly specialized detailed anatomy ultrasound, and possibly an ultrafast fetal MRI and an echocardiogram. After the images are evaluated, the team sits down with the family to discuss the diagnosis and treatment options. All of this takes place in one day.
"Learning your baby has a birth defect is a life-changing experience. It requires families to think about their pregnancy and delivery in a new light. Here at CHOP, our entire team is dedicated to making sure families have the best possible experience, no matter what the outcome," said Moldenhauer.
An update on Angela and Liam
As of Jan. 2017, Angela and Liam are happy, healthy, almost 5 year olds. They currently attend preschool and are preparing to start kindergarten next year. They enjoy swimming, making art projects and taking karate lessons, and are looking forward to starting teeball this spring. They are best friends (most of the time!) and look out for each each other.
"We are forever grateful to CHOP and all they have done for us," reflects Kathy. "Our time there has made us grow closer as a family and have a better outlook on life."
Contact
Ashley Moore, Children's Hospital of Philadelphia, 267-426-6071 or moorea1@email.chop.edu