CHOP Celebrates 1,000 Fetal Surgeries
Published on in CHOP News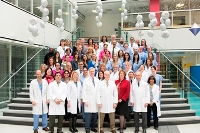 CFDT team
The Children's Hospital of Philadelphia Celebrates the Birth of Its 1,000th Fetal Surgery Patient
The world's most experienced fetal diagnosis and therapy team hits record-breaking milestone
June 6, 2013 — Eighteen years after opening its internationally prominent Center for Fetal Diagnosis and Treatment, The Children's Hospital of Philadelphia (CHOP) celebrates 1,000 fetal surgeries — highly complex surgical interventions to repair birth defects in the womb. Approximately 4,000 fetal surgeries have been done worldwide, meaning a quarter of them have been performed at CHOP, the largest number of any hospital in the world.
"Although birth defects remain the leading cause of infant mortality in the United States, we have been able to develop and share innovations that help advance treatment for these defects, relying on tools, techniques and experience not available 30 years ago," said fetal surgery pioneer and pediatric surgeon N. Scott Adzick, MD, medical director of the Center for Fetal Diagnosis and Treatment at CHOP, where he is also Surgeon-in-Chief.
It took a small group of medical professionals, committed to treating life-threatening birth defects before birth, to dramatically expand the capabilities of fetal medicine. Today, having provided effective treatments for thousands of babies worldwide, fetal therapy is recognized as one of the most promising fields in pediatric medicine.
CFDT team
Established by Dr. Adzick in 1995, CHOP's Center is now the largest and most comprehensive fetal program in the world, having welcomed nearly 15,000 expectant mothers from all 50 states and more than 50 countries. Each week at CHOP, highly sophisticated surgical teams repair spina bifida and other birth defects in the womb, place fetal shunts to treat life-threatening congenital conditions, or perform minimally invasive procedures in the mother's uterus to treat complications in fetal twins. The Center staff also manages pregnancies complicated by birth defects, in which newborns need immediate specialized medical care or surgery after delivery.
"This is our mission and our passion, and our multidisciplinary team is constantly working to improve care, treatment and outcomes for these fragile babies and their families," said Lori J. Howell, MSN, RN, executive director of the Center for Fetal Diagnosis and Treatment. "The high volume of patients we see with incredibly complex, rare conditions makes all the difference. Our experienced team has treated large numbers of patients with a given diagnosis, whereas many medical professionals will only see one or two such patients in their entire career."
The 1,000th fetal surgery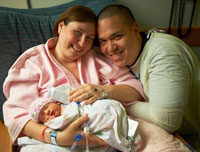 Like nearly 20 percent of the fetal surgeries at CHOP, the 1,000th case was a complex open surgery on a mother whose fetus was prenatally diagnosed with spina bifida. Audrey Rose Oberio with her parents Jackie and Gideon
Jackie Oberio, who lives in the Baltimore area, was 19 weeks pregnant when she and her husband Gideon found out that their unborn daughter had myelomeningocele, the most severe form of spina bifida, a condition in which part of the developing spine fails to close properly.
After speaking with several local specialists and conducting lots of online research, the Oberios discovered the Center for Fetal Diagnosis and Treatment at CHOP. Led by Dr. Adzick, Center team members had pioneered a surgical procedure to repair spina bifida before birth and had been performing it at CHOP since 1998. The CHOP team had found that addressing spina bifida by operating on the baby in the womb, months before birth, could reduce the need to divert fluid from the brain, improve neurologic function and increase the likelihood that a child would be able to walk independently.

Those same results were later confirmed in 2011 when the results of a landmark nationwide clinical trial, co-led by CHOP, were published in the New England Journal of Medicine and conclusively established the effectiveness of fetal surgery for spina bifida.

On Feb 28, the Oberios traveled from their home in Maryland to Philadelphia for a comprehensive two-day evaluation to determine if they were indeed candidates for fetal surgery. During their evaluation they met with a multidisciplinary team that included some of the world's most experienced experts in fetal surgery and therapy, including maternal-fetal medicine specialists, reproductive geneticists, surgeons, anesthesiologists, neonatologists, fetal cardiologists, genetic counselors, fetal imaging experts, psychologists, social workers, and child life specialists, as well as advanced practice, obstetric, neonatal and operating room nurses. All are specifically trained to care for mother and infant pairs in which the baby is prenatally diagnosed with birth defects.
"The doctors at CHOP went over what would happen if we had the surgery, what would happen if we didn't do the surgery, what happens if the baby is born preterm, what happens if the baby needs a shunt, what was going to happen to me," Jackie said. "Every little thing that could happen they went through in detail five times, helped with questions and emotionally supported us."
Jackie qualified for the surgery and returned home to gather belongings for her temporary relocation to Philadelphia. Only a week after her initial evaluation, CHOP surgeons successfully closed the opening in her unborn baby's spine.
For the next two and a half months, Jackie's home was in Philadelphia where she was restricted to modified bed rest, while Gideon traveled back and forth to Baltimore for work. "Leaving Jackie every four days was one of the hardest things I've ever had to do" said Gideon, a cardiac nurse in Baltimore.
On May 28, maternal-fetal medicine specialist Nahla Khalek, MD, and obstetrician May-Ange Ntoso, MD, and their team performed a cesarean delivery in CHOP's Garbose Family Special Delivery Unit (SDU), the world's first birth facility designed exclusively for pregnancies complicated by birth defects. Audrey Rose weighed a healthy 5 pounds, 8 ounces and had nothing more than a scar where her myelomeningocele had been. After delivery, she was immediately cared for in the Harriet and Ronald Lassin Newborn/Infant Intensive Care Unit and is expected to return home in several days. (Find out how Audrey is doing today.)

More information
About the Center for Fetal Diagnosis and Treatment at CHOP
The Center for Fetal Diagnosis and Treatment at The Children's Hospital of Philadelphia is an internationally recognized leader in fetal surgery and fetal care. One of the only programs of its kind in the world, it offers a comprehensive breadth of services, including fetal therapy, to support patients from prenatal evaluation through delivery, postnatal care, and long-term follow-up.
Established in 1995, the Center has welcomed nearly 15,000 expectant parents and received referrals from all 50 states and more than 50 countries. Its multidisciplinary team brings decades of experience to the care and treatment of the fetus and the expectant mother. The Center has performed more than 1,000 fetal surgeries, including complex open procedures for birth defects such as spina bifida; less invasive fetoscopic or ultrasound-guided surgeries for conditions such as twin-twin transfusion syndrome; and specialized coordinated delivery approaches for babies that require surgical intervention while still on maternal-placental life support (EXIT delivery). For more information visit http://fetalsurgery.chop.edu.
The Fetal Heart Program at The Children's Hospital of Philadelphia specializes in the detection, evaluation and management of fetal heart defects prior to a baby's birth. The team performs more than 3,300 fetal echocardiography studies annually, making it one of the largest fetal heart programs in the US. The program's offerings include: state-of-the-art technology, planning for labor and delivery and complete care for the newborn after birth, access to the full Cardiac Center team and the most advanced fetal heart defect treatments available, including fetal heart interventions if necessary. The Cardiac Center performs more than 850 cardiothoracic surgeries per year and the Center's outcomes are among the best in the world.
Contact
Ashley Moore, Children's Hospital of Philadelphia, 215-630-4683 (cell) or moorea1@email.chop.edu