CHOP Dentist Receives the Manuel M. Album Award
Published on in CHOP News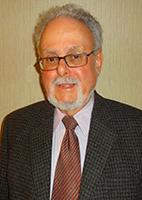 Sheldon Bernick, DDS June 24, 2013 — Sheldon Bernick, DDS, a volunteer dentist at The Children's Hospital of Philadelphia (CHOP) for the past 15 years, received The Manuel M. Album Award at the annual meeting of the American Academy of Pediatric Dentistry, held May 23-26 in Orlando, FL. This award recognizes a dentist for outstanding achievements in caring for children with special needs.

Dr. Bernick, who practices in Broomall, PA, works at CHOP once a week as the consulting pediatric dentist on the Hospital's Cleft Palate and Craniofacial team.

"Dr. Bernick is an essential asset to our team," said Scott P. Bartlett, MD, chief of the Division of Plastic and Reconstructive Surgery and director of the Craniofacial Program at CHOP. "He certainly exhibits compassion, care and expertise in caring for pediatric patients with special needs. Congratulations to him on receiving this award, which showcases his significant contributions over many years to the children that CHOP serves."

The Manuel M. Album award is presented to a dentist who exhibits compassion and expertise in the care of children with disabilities. Established in 1997 in honor of Manuel M. Album, DDS, the award is presented annually to the individual or organization that has made the greatest contribution to the oral health of children with special needs. Dr. Album was the former chairman of Pediatric Dentistry at CHOP and director of the Special Patients Clinic and Course at the University of Pennsylvania. The award was created by the Album Society, made up of former residents of CHOP's Pediatric Dentistry Department.
Dr. Bernick is a board-certified pediatric dentist. He graduated from the University of Minnesota School of Dentistry and in 1968 completed a specialty residency at CHOP, where he was mentored by Dr. Album.