CHOP Fetal Surgeon Receives John Scott Award
Fetal Surgeon N. Scott Adzick Receives John Scott Award
Published on in CHOP News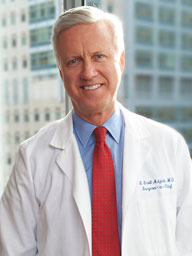 Adzick Scott November 22, 2013 — World-renowned fetal surgery pioneer N. Scott Adzick, MD, MMM, FACS, FAAP, will receive the John Scott Award, one of America's oldest and most prestigious science awards, dedicated to the memory of Benjamin Franklin, at a formal ceremony tonight at the American Philosophical Society. Adzick, the Surgeon-in-Chief at The Children's Hospital of Philadelphia (CHOP), will be recognized for his contributions to fetal surgery — performing highly complex procedures on babies while still in the womb, to correct debilitating or life-threatening birth defects.
Founded in 1834, the John Scott Award is given to men and women whose inventions have contributed in some outstanding way to the "comfort, welfare and happiness" of mankind. Past winners have included Marie Curie, Thomas Edison, Jonas Salk, Irving Langmuir, Guglielmo Marconi, R. Buckminister Fuller, and the Wright Brothers. A committee of Philadelphians nominates honorees to the Board of Directors of City Trusts of the City of Philadelphia.
Career of groundbreaking research
An innovator in fetal medicine since the field's inception, Adzick has dedicated his career to the pursuit of groundbreaking prenatal treatment for birth defects. Following medical school, residency and fellowships in Boston, Adzick moved to the University of California, San Francisco where he and his research colleagues developed fetal surgical techniques using animal models prior to clinical application.
Since that time, Adzick has made pioneering contributions to fetal surgery, and today continues to explore cutting-edge treatment options.
Adzick was also the principal investigator at CHOP for the National Institutes of Health (NIH) Management of Myelomeningocele Study. This landmark clinical trial demonstrated that fetal surgery could substantially improve outcomes for children with spina bifida. The study represents the fruition of decades of research, much of it led by Adzick and his team, exemplifying how a once-radical idea can, through meticulous investigation, be transformed into a viable treatment. Adzick was lead author of the study results, published in the New England Journal of Medicine in March 2011.
Founder of Center for Fetal Diagnosis and Treatment
In 1995, when he was recruited to The Children's Hospital of Philadelphia as Surgeon-in-Chief, Adzick founded the Hospital's Center for Fetal Diagnosis and Treatment. Today that Center is the largest and most comprehensive fetal program in the world, having welcomed expectant mothers from all 50 states and more than 50 countries. The Center recently celebrated a milestone of 1,000 fetal surgeries. Approximately 4,000 fetal surgeries have been performed worldwide, meaning a quarter of them have been performed at CHOP, more than at any other hospital.
Adzick is also an active pediatric general and thoracic surgeon. While much of his work is devoted to surgery in newborns, he also has a special interest and expertise in surgery for complex pediatric endocrine conditions such as hyperinsulinism and pediatric thyroid disorders. Adzick has had NIH grant support for 30 years and has authored more than 500 peer-reviewed publications. He was elected to the Institute of Medicine of the National Academy of Sciences in 1998.
Adzick is one of three distinguished Philadelphia scientists to receive the 2013 John Scott Award during a ceremony tonight at the American Philosophical Society's headquarters in center city Philadelphia. The prize commemorates John Scott, an Edinburgh druggist who in the early 1800s set up a fund to honor Benjamin Franklin's legacy by recognizing ingenious men or women responsible for transformative inventions. The first awards were presented in 1834 for the inventions of the knitting machine and a door lock. Through the years, awards have been made internationally for the inventions in industry, agriculture, manufacturing, science, and medicine. Fellow honorees include Dr. P. Leslie Dutton, a biochemist and biophysicist at the University of Pennsylvania's Perelman School of Medicine and Dr. Robert L. Brent, the former Chairman of Pediatrics at Thomas Jefferson University.
Contact
Ashley Moore, The Children's Hospital of Philadelphia, 215-630-4683 or Moorea1@email.chop.edu