CHOP Pediatric Residency Program Ranked Number One
Published on in CHOP News
October 1, 2014 — The Children's Hospital of Philadelphia was named the No. 1 program in the nation for pediatric residency training by the physician network Doximity, in collaboration with U.S. News & World Report.
"The central premise of the Pediatric Residency Program at CHOP is cultivation, as we believe that a physician becomes a well-trained pediatrician gradually," said Joseph W. St. Geme, III, MD, physician-in-chief and chair, Department of Pediatrics. "Supervision and support from our expert faculty allows residents to take on responsibility in stages, and grow into leadership roles by the completion of the third year."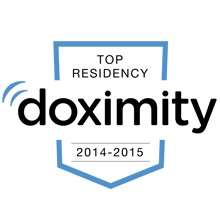 CHOP residents train in cutting-edge facilities, surrounded by world-renowned faculty and residents are central to the missions of the CHOP Care Network and the University of Pennsylvania Perelman School of Medicine. Faculty members frequently mentor residents in clinical, translational and basic science research projects and serve as advisors and mentors for community outreach experiences.
"At the conclusion of their training at CHOP, 50 percent of residents pursue a subspecialty fellowship, nearly 40 percent pursue a career in academic general pediatrics, and roughly 10 percent pursue a career in primary care pediatrics," added St. Geme.
The Pediatric Residency Program at The Children's Hospital of Philadelphia is a three-year program, accredited by the Accreditation Council of Graduate Medical Education, leading to certification in General Pediatrics by the American Board of Pediatrics. This year CHOP has almost 150 pediatric residents.
About Doximity
Doximity is the largest physician network in the country. They have nearly 50 percent of United States physicians as members of their LinkedIn-style professional platform. U.S. News collaborated with Doximity on the residency research.
Contact: Joey McCool Ryan, The Children's Hospital of Philadelphia, (267) 258-6735 or mccool@chop.edu