CHOP Play Area Opens at King of Prussia Mall
Published on in CHOP News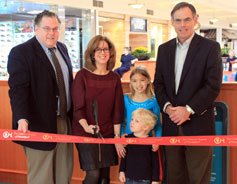 February 17, 2013 — The Children's Hospital of Philadelphia (CHOP) today celebrated the opening of a children's play area at King of Prussia Mall with a ribbon cutting ceremony. The 1,200-square-foot CHOP-sponsored play area benefits local families, serving as a place for young children to play and exercise while at King of Prussia Mall.
The CHOP play area features bright, colorful, soft foam play elements representative of CHOP, including a replica of the Hospital, an ambulance, stethoscope, rescue helicopter and thermometer. The play elements are designed to encourage creative play and exercise by incorporating tunnels, climbing elements and slides.
"CHOP is proud to partner with King of Prussia Mall to provide a fun space that promotes healthy habits and nurtures kids' imaginations," said Madeline Bell, CHOP president and chief operating officer. "We are dedicated to serving families and children in the communities surrounding Philadelphia through our extensive Care Network of primary and specialty care offices."
The Children's Hospital of Philadelphia has a well-established history of providing top-notch pediatric care close to home through its CHOP Care Network. A nearby example is CHOP's Specialty Care Center located on Mall Boulevard, which since its opening in 1997, has expanded clinical services to more than 20 medical specialties, including a robust sports medicine program. The CHOP Specialty Care Center in King of Prussia is one of more than 50 CHOP Care Network centers in Philadelphia, the surrounding counties and South Jersey offering top-ranked primary and specialty care services to families close to home.
"We are thrilled to be partnering with The Children's Hospital of Philadelphia to offer this wonderful family amenity to our shoppers," said King of Prussia Mall Manager Bob Hart. "This children's play area is a welcome addition to the center and we hope our shoppers with young children will enjoy it."
The CHOP play area is located on the upper level of The Plaza near J.C. Penney and H&M.