CHOP President to Receive 2013 Women of Distinction Award
Published on in CHOP News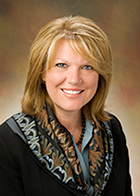 October 9, 2013 — The Philadelphia Business Journal today announced that Madeline Bell, president and chief operating officer of The Children's Hospital of Philadelphia (CHOP) was honored as a 2013 Women of Distinction award recipient. The region's most dynamic women will be recognized 5-9 p.m. Tuesday, Nov. 19, at the Sheraton Philadelphia Downtown Hotel, 17th and Race Streets.
"I am deeply honored to be included among such an impressive group of women selected by Philadelphia Business Journal and The Forum of Executive Women," Bell said. "Whatever success I have achieved has been due in large part to the support and encouragement I've received over the years from family, educators and colleagues. I am proud to be president of CHOP — a truly amazing place with dedicated employees who demonstrate every day their commitment to providing superlative care to our children from the Philadelphia region and around the world."
Presented by Wells Fargo, the event will gather 500 of the region's newsmakers for networking and an inspiring awards ceremony. Winners will be profiled in a special section of the Philadelphia Business Journal's Nov. 15 issue.
"Philadelphia Business Journal is thrilled to honor the women who are true role models in our region in professional achievement and in community service," said Craig Ey, editor-in-chief, of Philadelphia Business Journal. "The 2013 Women of Distinction winners, in particular, embody all of what makes the Philadelphia region great; people who are very talented, passionate about what they do and committed to personal, professional and community success."
Bell joined CHOP in 1995, and following a variety of management and executive positions was named president and COO in 2007. In this role she provides executive leadership for the operations of the hospital and the CHOP Care Network, and is responsible for implementing the strategic roadmap, developing the operating plan and budget. Over the past six years, she has led significant growth while maintaining the financial strength of the organization.
Bell has a Bachelor of Science in Nursing from Villanova University, and a Master of Science and a Master's in Philosophy, both from the University of Pennsylvania. In addition to serving as a board member for numerous community and children's organizations, she is the chair of the Children's Hospital Association's Public Policy Committee.
About The Children's Hospital of Philadelphia
The Children's Hospital of Philadelphia was founded in 1855 as the nation's first pediatric hospital. Through its long-standing commitment to providing exceptional patient care, training new generations of pediatric healthcare professionals and pioneering major research initiatives, Children's Hospital has fostered many discoveries that have benefited children worldwide. Its pediatric research program receives the highest amount of National Institutes of Health funding among all U.S. children's hospitals. In addition, its unique family-centered care and public service programs have brought the 527-bed hospital recognition as a leading advocate for children and adolescents.