CHOP's New Mobile App Assists Parents with Vaccine Decisions
Published on in CHOP News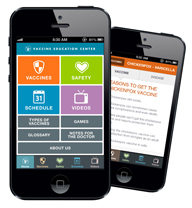 January 7, 2014 — The Vaccine Education Center at The Children's Hospital of Philadelphia's (VEC) mobile app, Vaccines on the Go: What You Should Know, is now available for Android in addition to Apple platforms. Vaccines on the Go: What You Should Know is a unique mobile app that allows busy parents to access up-to-date, reliable information about the science and safety of vaccines — wherever and whenever they need it.
Vaccines on the Go: What You Should Know includes comprehensive information about:
Vaccines and the diseases they prevent
Vaccine safety topics, including autism, thimerosal, vaccine schedules, and too many vaccines
Recommended immunization schedules for children, teens and adults
Types of vaccines and how they're made
Additional features include:
Graphics depicting disease characteristics, such as levels of contagiousness and typical disease timelines
Links to videos about vaccines
Vaccine-related games, like hangman and matching
A place to save questions for the next doctor's visit
The opportunity to easily email the VEC for answers to vaccine-related questions
Links to other VEC resources, like booklets and Q&A sheets
The new app places the extensive resources from the VEC website at parents' fingertips in an easy-to-navigate mobile platform that parents can access at the doctor's office, grocery store, or pharmacy, allowing parents to find immediate answers to questions wherever they arise and to help them make informed decisions regarding their child's immunizations.
Parents can download the free app from the iPhone or Android stores or can learn more or easily locate the links to the app in app stores by visiting the Vaccine Education Center.
Materials in this section are updated as new information and vaccines become available. The Vaccine Education Center staff regularly reviews materials for accuracy.
You should not consider the information in this site to be specific, professional medical advice for your personal health or for your family's personal health. You should not use it to replace any relationship with a physician or other qualified healthcare professional. For medical concerns, including decisions about vaccinations, medications and other treatments, you should always consult your physician or, in serious cases, seek immediate assistance from emergency personnel.