CHOP Scientist Recognized at Pediatric Oncology Conference
Published on in CHOP News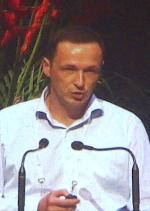 November 1, 2011 — A team of doctor's from the Center for Childhood Cancer Research at Children's Hospital of Philadelphia traveled last week from Philadelphia to Auckland, New Zealand, to attend the 43rd congress of the International Society of Paediatric Oncology — SIOP 2011.
One member of the group, Andrew C. Wood, MBChB, returned to Philadelphia with high honors. He received the award for Best Translational Research Abstract on day one of the event.
About the Research
Dr. Wood, who calls Auckland home, has been working in the laboratories at CHOP since 2007. He first came to the Hospital after receiving the 2007 Fulbright-Ministry of Research, Science and Technology Graduate Award to research new treatments for neuroblastoma. Dr. Wood stayed on as a Saint Baldrick's fellow, with his work focusing on how anaplastic lymphoma kinase (ALK) mutations cause neuroblastoma.
He hopes to discover which incorrect messages the different ALK mutations send to the cell. Identifying the molecules the carry these messages could reveal additional cancer targets to attack. Dr. Wood and his peers at CHOP believe this approach could lead to novel targeted therapies which can attack the tumor while sparing healthy cells, and result in higher cure rates.
Congratulations Dr. Wood!