The CHOP Way: A Team of Experts, a Plan of Care and Parental Involvement
Published on in CHOP Family News
Born at 25 weeks gestation, Bennett has been cared a team of experts CHOP.
By Mary Pellegrino
Other than being two months late, Bennett's third birthday party was typical in many ways: too much food, kids running around playing games and yelling, a Superman cake, balloons, and adoring relatives singing Happy Birthday to You.
But for my little guy, nothing is typical. This was a breakthrough birthday. We were thrilled to announce that Bennett was cancer-free! I heard from his oncologist, Dr. Caitlin Elgarten, the morning of his party, and couldn't wait to share the news with our family and friends.
We owe our happiness — and Bennett's life — to Children's Hospital of Philadelphia.
I had a complicated pregnancy, and Bennett was born June, 12, 2013, at 25 weeks gestation, coming in at 1 pound, 2 ounces and 12 inches long: a micro preemie. After 10 days at Abington Hospital, one of CHOP's community hospital partners, he developed an intestinal perforation, when there is a hole in the bowel and meconium leaks into the belly. This is life threatening.
He needed to go to CHOP immediately.
The members of the CHOP Emergency Transport team were wonderful. They explained everything that would happen. They were honest: They said they couldn't promise he'd make it, but I knew he was in the best possible hands. My husband, Greg, and I headed to Philadelphia for what would be Bennett's 223-day hospitalization.
Unexpected find
During surgery to repair his bowel, Dr. Holly Hedrick found a hematoma on his liver, a condition that she said "was not compatible with life." His liver looked like an overly ripe tomato, about to burst. She was able to avoid the area, and it stayed intact.
Still, Dr. Hedrick told us we had to take things minute by minute, hour by hour.
He may not survive. She said it in such a way that you knew she felt our pain and Bennett's. She embraced the seriousness of the situation and honored it.
Over the next several months, Bennett had multiple surgeries to repair his vision, heart and belly. When your baby is that sick, it's hard to think straight. That's why we're so grateful for what we came to call "The CHOP Way."
Any time Bennett was facing a medical challenge, CHOP put together a team of experts that would create a plan of care and keep our family involved, explaining it to us and answering all our questions. We were included in Bennett's care every step of the way, and our care team came to embrace CHOP's mission of family-centered care.
Bennett healed and grew strong enough to finally come home for the first time in January 2014. Because of his journey, he has cerebral palsy, which affects his mobility, vision and speech.
He sees CHOP specialists in ophthalmology, orthopaedics, endocrinology, immunology, otolaryngology (ears, nose, throat), neurosurgery, neurology, neonatal follow-up, the feeding clinic and the seating clinic (for his mobility).
While he had a few inpatient stays, mostly we were at home, helping him with his many therapies and enjoying family trips and spending time together.
More than a fever
In the spring of 2016, he had a low-grade fever for three weeks that wouldn't go away. He wasn't eating well, and he didn't want to sit in his chair, which he normally loves. After viral screening and a urinalysis couldn't help our primary care pediatrician figure out the cause, we headed back to CHOP and were admitted.
Dr. Mark Magnusson happened to be on call. We were told that he's like CHOP's Dr. House from the TV show, the doctor who diagnoses all the tough cases. He ordered a full-body MRI, which showed a mass on Bennett's liver.
Dr. Magnusson came back at 7 a.m. the next day and told me it was a cancerous tumor, most likely hepatoblastoma. Then he waited on the floor until Greg arrived so he could tell him and answer his questions. He was supportive, caring and sensitive to the gravity of our conversation.
That's when The CHOP Way kicked in again. Oncology got on board and involved us in the plan. Before they moved Bennett to the oncology floor, they took me on a tour, reducing my fears.
Initially, we wanted Dr. Hedrick to handle the surgery. Respectfully, she said, "no." She explained that Dr. Pete Mattei was the best surgeon for this particular surgery, and after all that she'd done for Bennett, we trusted her judgment. Oncology supported us through his operation — removing the 1-pound, softball-sized tumor — and recovery.
During his recovery, Bennett became ill. Doctors suspected a portion of his bowel died and may need to be removed. Dr. Mattei performed that surgery, too. Thankfully his bowel was fine, and he was having a large inflammatory response to his liver surgery.
We were petrified as he slowly began to recover. It was touch and go, but we trusted in The CHOP Way to get Bennett through recovery, and it worked.
Respecting parents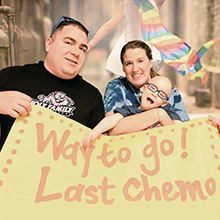 Mary and Greg Pellegrino celebrate Bennett's last chemotherapy session last spring. Another thing I really like about CHOP is the ability for doctors and nurses to meet parents where they are emotionally.
Some parents say, "Just fix my baby and I don't need the details," and that is not met with judgment. It's how they need to cope and be a family, and that's OK.
Then there are families like ours that want all the information all the time. We can be a pain in the butt sometimes, I'm sure, but they respect us, too.
Bennett remains in remission. He's home eating pancakes, guacamole, ravioli and cheesecake — his favorites. He started preschool last fall at Easter Seals, where he's made a few friends (and fights off kisses from a little girl).
When I come home from work every day, I hear him calling out, "Hi, Mom!" and my heart smiles, saying a little "thank you" to CHOP.