Daisy Day Luncheon and Fashion Show Raised More Than $1.6M
Published on in CHOP News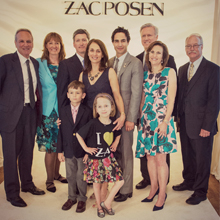 May 9, 2014 — The Children's Hospital of Philadelphia's 58th Annual Daisy Day Luncheon and Fashion Show raised more than $1.6 million to support the Center for Fetal Diagnosis and Treatment.
World leaders in their field, the Center's team has pushed the boundaries of medicine and established techniques to surgically repair birth defects before birth, while a baby is still in its mother's womb. Proceeds from the event will support these life-saving treatments and breakthrough discoveries, so the Center can help even more families in need. More than 700 guests attended the event on May 8 at the Hyatt at The Bellevue.
"Daisy Day is the largest volunteer fundraising effort benefiting CHOP and an annual tradition in the City of Philadelphia," said Steven M. Altschuler, MD, chief executive officer of The Children's Hospital of Philadelphia. "We are extremely grateful to the entire Daisy Day committee, the many event sponsors, and generous attendees, for raising these critical funds that will help CHOP continue to provide the highest level of pediatric care available to children and families in Philadelphia and around the world."
This year's fashion show, presented by Saks Fifth Avenue, featured Zac Posen's Fall 2014 Collection. Nancy A. Wolfson celebrated her 16th consecutive year as chair of Daisy Day. This year's honorary co-chairs were Mary and Jed Kelly, parents of now 7-year-old Addison Kelly, who underwent a rare life-saving surgery before birth to remove a tumor from her chest. Mary spoke at Daisy Day about the remarkable care the entire Kelly family received thanks to the Center for Fetal Diagnosis and Treatment.
Since its founding in 1995, CHOP's Center for Fetal Diagnosis and Treatment has attracted expectant mothers from all 50 states — and more than 60 countries — who are carrying babies with known birth defects. It is the largest program of its kind in the world, providing fetal diagnosis, prenatal management, delivery and postnatal care.
"We are honored that the Center for Fetal Diagnosis and Treatment was selected as this year's beneficiary. These much needed funds will allow us to offer hope to even more expectant parents and their unborn babies," said N. Scott Adzick, MD, surgeon-in-chief at The Children's Hospital of Philadelphia and director of the Center for Fetal Diagnosis and Treatment.
The event kicked off with a silent auction featuring high-end jewelry, designer handbags, sports memorabilia, trips and much more, followed by an energetic live auction during lunch that included a Zac Posen once-in-a-lifetime experience, trip to Costa Rica, tickets to The Voice and America's Got Talent, and a Philadelphia Eagles Experience. The event concluded with the spectacular Saks Fifth Avenue runway show featuring fashion designer and "Project Runway" judge Zac Posen.
"We're honored to continue this long, valued partnership with CHOP. As leaders in our respective fields, Saks Fifth Avenue and The Children's Hospital of Philadelphia come together to help families in need in a way that's so unique to Philadelphia," said Alan Tobman, VP/General Manager at Saks Fifth Avenue Bala Cynwyd. "The monies raised through the Daisy Day luncheon, graciously supported by internationally-respected designers like Zac (Posen), help ensure that CHOP's world-class medical staff, researchers and caregivers can continue to change lives for years to come."
The Annual Daisy Day Luncheon and Fashion Show was founded by the Auxiliary of The Children's Hospital of Philadelphia in 1953. Since its inception, when volunteers sold daisies on street corners throughout the city, the Daisy Day Luncheon and Community Campaign have grown to attract the support of schools and businesses across the region, raising more than $17 million for world-class patient care and pioneering research.