Delaware News Journal Features Craniofacial Program Patient
Published on in CHOP in the Media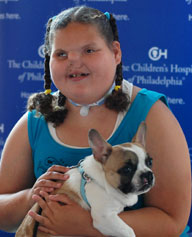 Bryttani Lentil CHOP Craniofacial Program patient Bryttani Gore poses with Lentil, the French bulldog who had surgery to repair his cleft palate. Photo courtesy of Penn Vet.
July 22, 2013 — Delaware resident Bryttani Gore was born with a rare midline cleft. At 14 years old, she has undergone multiple surgeries under the care of Scott Bartlett, MD, attending surgeon at The Children's Hospital of Philadelphia and chief of the Division of Plastic and Reconstructive Surgery.
While Bryttani faces several more procedures, she remains resilient and optimistic. She was among the patients in attendance at the inaugural "Best Friends Bash," an event hosted by The Children's Hospital of Philadelphia and The School of Veterinary Medicine at the University of Pennsylvania. The idea behind the event was to help children with craniofacial conditions cope by introducing them to friendly canines that have also had surgery and faced challenges associated with facial differences.