Families Across U.S. Attend 15th Annual Fetal Family Reunion
Published on in CHOP News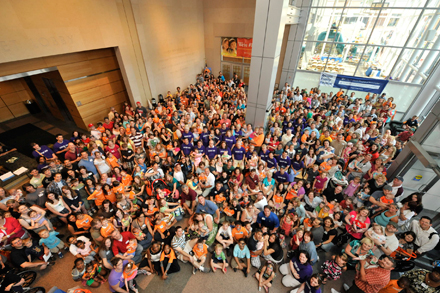 Fetal Family Reunion July 6, 2011 — More than 1,000 people gathered June 26, 2011 to celebrate at The Children's Hospital of Philadelphia (CHOP) for the 15th Annual Center for Fetal Diagnosis and Treatment Fetal Family Reunion.
The reunion brings together a unique community of families who have shared similar struggles. Nearly all of the children in attendance were prenatally diagnosed with a birth defect, like congenital diaphragmatic hernia, spina bifida, congenital heart disease or twin-twin transfusion syndrome, that had potentially devastating outcomes.
Babies diagnosed with these birth defects either underwent fetal surgery to treat the condition before birth or needed immediate specialized care after birth. Attendance at the reunions has grown from ten families at the Center's first reunion to more than 200 families at today's event.
"The fetal family reunion is our team's favorite day of the year," said N. Scott Adzick, MD, surgeon-In-chief at Children's Hospital and director of the Center for Fetal Diagnosis and Treatment. "It is truly inspiring to see so many children, who as babies likely could have died, now running around and growing up healthy and strong."
Birth defects are common; one in 33 babies in the U.S. is born with one each year. Since 1995, CHOP's Center for Fetal Diagnosis and Treatment has been able to provide care for many families who were told their baby had little chance for survival. This annual reunion is an opportunity for staff and patient families to reunite and celebrate.
"The families gathered here today represent over 10,000 expectant mothers we've been able to offer hope and support to over the last 16 years," said Adzick. "Our expertise attracts people to Philadelphia from across the U.S. and around the world and we are excited to have so many families come back to celebrate with us each year."
More information
View photos from the 15th annual Reunion on the Center's Facebook page.
About the Center for Fetal Diagnosis and Treatment at CHOP
The Center for Fetal Diagnosis and Treatment at The Children's Hospital of Philadelphia is an internationally recognized leader in fetal surgery and fetal care. One of the only programs of its kind in the world, it offers a comprehensive breadth of services, including fetal therapy, to support patients from prenatal evaluation through delivery, postnatal care, and long-term follow-up. Established in 1995, the Center has welcomed more than 10,000 expectant parents and received referrals from all 50 states and more than 50 countries. Its multidisciplinary team brings decades of experience to the care and treatment of the fetus and the expectant mother. The Center has performed nearly 800 fetal surgeries, including complex open procedures for birth defects such as spina bifida; less invasive fetoscopic or ultrasound-guided surgeries for conditions such as twin-twin transfusion syndrome; and specialized coordinated delivery approaches for babies that require surgical intervention while still on maternal-placental life support (EXIT delivery).
Visit the Center for Fetal Diagnosis and Treatment.
About the Fetal Heart Program
Advances in prenatal imaging now permit the detection of congenital heart disease early in pregnancy. The Cardiac Center's Fetal Heart Program specializes in expert diagnosis, evaluation and ongoing management of congenital heart disease before birth, as early as 12 weeks gestation. The program is the largest of its kind in the U.S., attracting referrals nationwide. A specialized team of fetal cardiologists, fetal imaging sonographers and dedicated nurse coordinators provide extensive family education and individualized counseling. The Fetal Heart team draws upon the full resources of the Cardiac Center to care for both fetus and family.
Visit the Fetal Heart Program.
Contact
Ashley Moore, Children's Hospital of Philadelphia, 267-426-6071 or moorea1@email.chop.edu