Families Make May Matter by Advocating for Pediatric Stroke Awareness
Published on
Stroke Notes
Every day is pediatric stroke awareness day in the homes of our patient families, but even more so during May, which is national Stroke Awareness Month. Here, we look back at some of this year's awareness month activities, so you can start planning how you'd like to support our efforts next year!
The Bongiorno Family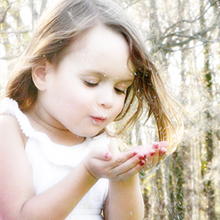 Every May, the Bongiorno family of Florence, New Jersey honors and celebrates their pediatric stroke survivor, 3 year old Alexa, by raising awareness within their community. In 2014, the family hosted a successful dinner and raised $5,000 for Pediatric Stroke Program research. This year, the American Stroke Association recognized Alexa with the Stroke Hero Award for her courage and determination in stroke recovery. Alexa's friends, family and community wore purple (the pediatric stroke awareness color) on that day to celebrate how far she's come.
The Herzog Family
Brendan Herzog had a stroke and life threatening seizures the day he was born. Since that day, his parents have advocated for pediatric stroke awareness by organizing events, selling t-shirts and artwork, giving speeches, and sharing their story with news media.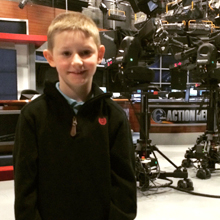 This May, Brendan and his dad, Brian, had the opportunity to participate in a short public service announcement focused on raising awareness about the fact that kids and babies have strokes, too. The PSA, which was sponsored by the American Heart/American Stroke Association, ran on 6ABC Philadelphia throughout Stroke Awareness Month.
While the PSA celebrates Brendan's recovery, his family wants other families to know there is so much more to every pediatric stroke story.
"Brendan has to work very hard to hit milestones," says Brian. "So as an advocate, I want everyone to know that yes, kids and babies have strokes too! But as a parent I want everyone to know that no one has a stroke and comes through unscathed. Brendan, just like all pediatric stroke survivors, may not hit every milestone, but he fights hard for every one he does hit.  And that makes each one of those even better!"