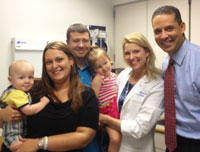 Diagnosed with a severe case of congenital diaphragmatic hernia (CDH) while he was still in his mother's womb, doctors at The Children's Hospital of Philadelphia's Center for Fetal Diagnosis and Treatment didn't know if Bryson Woodruff would survive.
On the day he was born, Bryson was put on ECMO, a heart-lung bypass machine, to give his tiny lungs a chance to grow. At 32 days old, Bryson underwent CDH repair surgery, performed by pediatric surgeon Holly L. Hedrick, MD, to move his organs back into his abdomen and close the opening in his diaphragm. He proved to be a fighter, and after 90 days in the N/IICU, he was able to go home for the first time.
FOX 29 introduced Bryson to the world in a feature story shortly after he celebrated his first birthday.