A Helping Paw Helps Calm a Child's Anxiety During Anesthesia
Published on in CHOP News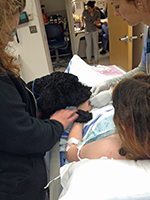 Service dog Finn consoles Ashley. Photo Credit: Journal of Anesthesia and Analgesia.
CHOP clinicians find innovative options to ensure patient-and family-centered care
August 27, 2013 — At The Children's Hospital of Philadelphia, it is common for parents to be present when a child receives anesthesia, but caregivers recently called on the support of another member of the household — the family dog.
When 12-year-old Ashley arrived at the gastroenterology suite to have two procedures performed while under general anesthesia, she was accompanied by both her mother and her service dog, Finn, which provided her with emotional support for her anxiety over medical visits and procedures. Ashley has autism spectrum disorder (ASD) and severe anxiety, amongst several other medical ailments.
Service dog teams with anesthesiologist to calm child during anesthesia administration
The nurses, technical staff, and anesthesiology team agreed to have the service dog in the room to make Ashley feel more comfortable. However, Ashley became extremely upset when the team began to administer the anesthesia, and she requested that this task be performed by her service dog.
"We saw great benefit in allowing our patient to have her service dog be actively involved in an important part of the procedure, and will continue to see the integration of service dogs into the anesthesia care of our patients where possible," said pediatric anesthesiologist Ron Litman, DO, who co-authored the case report in the journal.
"This procedure was conducted in the outpatient Kohl's Gastroenterology and Nutrition Diagnostic Center, a viable environment for the dog's presence. We are working on introducing this idea in the operating room complex, where there are other factors involved."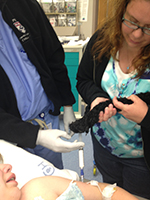 Dr. Litman allowed Finn to place his paw over the syringe administered to Ashley. Photo Credit: Journal of Anesthesia and Analgesia.
As reported in a recent issue of the Journal of Anesthesia and Analgesia, Dr. Litman allowed Finn to place his paw over the syringe administered to Ashley.
Service animals dramatically reduce stress in children with ASD during medical procedures
Today, 1 in 88 children in the United States is diagnosed with ASD, making it the fastest-growing developmental disability in this country. In patients with ASD and other developmental differences, medical procedures can be extremely overwhelming.
Studies have shown that the presence of service dogs in such situations dramatically reduces patients' stress levels. Cortisol levels in patients with ASD are shown to decrease with the introduction of a service dog into a situation. Those levels have been shown to rise when the service animal is removed from the situation.
Family-centered care allows partnering to meet each child's special needs
The Children's Hospital of Philadelphia was instrumental in developing the concept of family-centered care and patient and family centered care is a part of CHOP's everyday philosophy. This approach allows clinicians and staff to partner with each child and family to cater to their specific needs, values, and beliefs. In this particular case, the team incorporated flexibility and creativity to provide the care needed.
"This experience has taught the team the power of partnering with our patients and their families," said Alan Jay Schwartz, MD, a co-author of the paper. "It was quite eye opening and truly incredible to see. We look forward to continuing working with service dogs to better patient experiences, and hope to spread this value across other departments."
More information
Litman's and Schwartz's co-author was Aditee P. Ambardekar, MD. All are from The Children's Hospital of Philadelphia.