Media Captures Bonding Between Craniofacial Patients and Pups
Published on in CHOP in the Media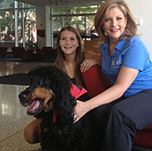 CBS Philly
July 17, 2013 — The Children's Hospital of Philadelphia and The School of Veterinary Medicine at the University of Pennsylvania have teamed up to help children with craniofacial conditions cope by introducing them to friendly canines who have also had surgery and faced challenges associated with facial differences.
Cleft Lip and Palate Program patient Corinne Merlino poses with CBS reporter Stephanie Stahl and Georgia, a Gordon Setter who had cancer removed from her upper jaw.
The inaugural "Best Friends Bash" brought together patients from the Division of Plastic and Reconstructive Surgery's Craniofacial Program with Penn Vet dogs with similar conditions. For the kids and teens that have undergone facial reconstruction surgeries, meeting pets who have gone through similar experiences can be a comfort.
CBS Philly interviewed Diana Sweeny, parent liaison for the Division of Plastic and Reconstructive Surgery, and patient Corinne Merlino.
Watch the story on CBS Philly to meet some amazing people and pets.