Melissa Ketunuti Memorial Global Health Fund Established at CHOP
Published on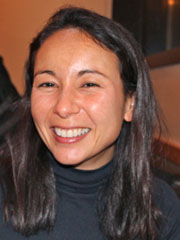 Melissa Ketunuti, MD In memory of Melissa Ketunuti, a beloved and dedicated pediatrician and humanitarian, Melissa's mother, Christiane Basselier, has established the Melissa Ketunuti Memorial Global Health Fund at The Children's Hospital of Philadelphia. Before Melissa's tragic death in January 2013, she had initiated her personal mission for improving the lives of underserved children in Africa through education, research and clinical care. This endowment will continue Melissa's legacy by creating opportunities for young pediatricians to work in global health sites in Africa by offering research and travel scholarships.
"Melissa was a skilled clinician, gifted researcher and very passionate about making a difference about vulnerable populations of children globally. She exemplified a unique blend of qualities that were an exceptional fit for The Children's Hospital of Philadelphia's Global Health initiatives," said Rodney Finalle, medical director, Global Health Center at The Children's Hospital of Philadelphia. "The Melissa Ketunuti Memorial Global Health Fund continues Melissa's legacy, inspiring future generations of pediatricians to dedicate their work to helping underserved children in Africa."
"Melissa was a gentle and caring physician, a kind and trusted colleague, and an inspiring and compassionate human being," said Lisa Zaoutis, MD, director, Pediatrics Residency Program at The Children's Hospital of Philadelphia. "We miss her greatly and yet feel her presence each time we care for a child and every time we help a friend in need. That is what Melissa was all about. We are thrilled that we can continue her great work, in her image, and in her name, through this remarkable fund."
Melissa was born and raised in Thailand and came to the United States in 1995 to study at Amherst College. She was interested in science and medicine, graduating from Amherst with a degree in neuroscience and then went on to medical school at the Stanford School of Medicine. Melissa was awarded a Fogarty Ellison scholarship in 2005, which enabled her to spend 10 months in Botswana conducting research on HIV. Melissa's time in Botswana helped confirm a lifelong passion for global health and helping underserved populations. Upon completion of residency, she stayed on at CHOP for a fellowship in pediatric infectious disease, with the goal of returning to Botswana to work with children suffering from HIV and AIDS.
"Melissa saw her infectious diseases training as a way to make a difference," said Paul Offit, MD, chief of Infectious Diseases at The Children's Hospital of Philadelphia. "She wanted to give something back. And she saw the developing world as the place to do it."
Supporters who wish to help CHOP continue Melissa's legacy are invited to donate to the fund which will benefit the lives of children and countless young doctors who, like Melissa, are striving to make a difference in the world.