Mothers Work as Health Promoters in DR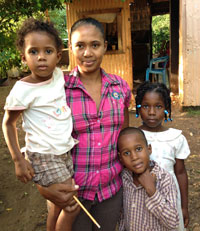 Sandra Carela Jimenez (center) is a health promoter for Niños Primeros en Salud (NPS) in the Dominican Republic, where she helps mothers raise healthier families. Her own children, Ruberky, Ruben and Rubelly (left to right) benefited from care provided by Barrio Filliu, a neighborhood in Consuelo, Dominican Republic, is a far cry from the neighborhoods surrounding The Children's Hospital of Philadelphia. For most who call Filliu home, including 29-year-old Sandra Carela Jimenez, daily life is a struggle. She and her neighbors face overcrowding, hunger, lack of clean water and extreme poverty. Most families of five live on less than $200 a month.
Since 2012, Jimenez has helped support her young children by working as a health promoter, as part of a program provided by Niños Primeros en Salud (Kids First Consuelo), which is also referred to as NPS. The Global Health Center at The Children's Hospital of Philadelphia opened this flagship pediatric program in 2009, building on years of collaboration with Consuelo leadership.
At NPS, Global Health clinicians and local healthcare providers provide primary care and education for impoverished children under the age of 5, focusing on nutrition, immunizations and prevention. The clinic started the health promoter program to extend the reach of NPS educational services to more residents of the barrios. After receiving training from NPS and CHOP professionals, the promoters accompany a nurse on home visits in their neighborhood at least once a week.
Jimenez is one of 11 health promoters working in the barrios of Consuelo. In addition to making home visits, she helps run monthly breastfeeding support groups, a critical service in a place where the clean water needed to make formula is so scarce. "I like being a health promoter," says Jimenez. "It is really motivating. When I visit neighbors in the barrio, they invite me to sit down and they talk about their children and what they can do to improve their health."
With the assistance of nurse Ramona Cordero, Jimenez helps other mothers understand what a doctor could do for their families, why nutrition and breastfeeding are so important, and how immunizations and other preventive measures can improve a child's health.
Jimenez fits perfectly into the role of health promoter because her own children benefited so much from care and education provided by NPS. Her 5-year-old son Ruben was often malnourished. After Jimenez enrolled him in the NPS program and began taking him to the clinic, she learned which foods were most nutritious, and he improved quickly. Her 3-year-old daughter Ruberky was often in the hospital with asthma attacks, fevers and breathing difficulty. After enrolling in the program, Ruberky's health has improved dramatically, and she hasn't been to the emergency room in more than three months.
"Families really listen to the nurse when she goes to their house and says 'you need to take the baby to the doctor,'" says Jimenez. "Sometimes they don't want to go, but when they talk to us they change their minds, and now when we visit them, they listen."