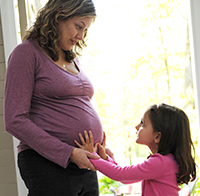 Acetaminophen, the drug found in Tylenol® and other over-the-counter medications, is one of the most common pain relievers used during pregnancy. It has long been considered a safe drug to take for headaches and minor pains. However, a new study shows that there may be a connection between acetaminophen use during pregnancy and an increased risk for attention-deficit hyperactivity disorder (ADHD) in children.
Study findings
The study, "Acetaminophen Use During Pregnancy, Behavioral Problems and Hyperkinetic Disorders," published in JAMA Pediatrics in February, looked at data from more than 60,000 Danish children and their mothers, following the subjects from pregnancy through adolescence. More than half of the women took acetaminophen during pregnancy. The study found that the children of the mothers who had taken acetaminophen had a higher risk of displaying ADHD behaviors. The time period was also a factor: Mothers who took acetaminophen for 20 weeks or more nearly doubled their children's risk for ADHD.
The study illustrates the need for pregnant women to take care with diet and medication use while pregnant. Many over-the-counter drugs — such as aspirin, ibuprofen (Advil®, Motrin®), naproxen (Aleve®), pills that contain caffeine (Excedrin®) and most cold medicines — are not safe to take during pregnancy. When you become pregnant, speak to your doctor about safe alternatives to these medications.
Contributed by: Patrick S. Pasquariello Jr., MD