Philadelphia Business Journal Features CHOP Fetal Reunion
Published on in CHOP in the Media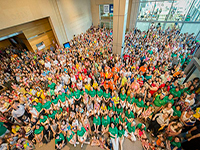 CHOP's 17th Annual Fetal Family Reunion June 24, 2013 — More than 1,300 people — all patients and families of the Center for Fetal Diagnosis and Treatment at The Children's Hospital of Philadelphia (CHOP) — traveled from across the United States to celebrate the Center's 17th Annual Fetal Family Reunion. The event brings together a unique community of families who have shared similar struggles.
Nearly all of the children in attendance were prenatally diagnosed with a birth defect, like spina bifida, congenital heart disease or twin-twin transfusion syndrome, that had potentially devastating outcomes. Babies diagnosed with these birth defects either underwent fetal surgery to treat the condition before birth or needed immediate specialized care after birth.
Patients and families reunited with the physicians, nurses and staff who helped to save the lives of these children before they were even born.