Stephanie DeVaughn, West Chester University student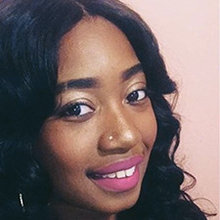 Stephanie DeVaughn Interning for the Homeless Health Initiative (HHI) has been a fulfilling experience. When I began as a social work intern, I had very little knowledge of the history and culture of homelessness. I came into this experience thinking that homelessness only involved providing shelter. However, HHI has broadened my views regarding homelessness and the work involved in addressing this social issue.
This internship opportunity has also changed my thoughts around policy and research. While I have practiced in the field of social work for seven years, I never really had a strong interest in research. Fortunately, HHI has given me a new outlook on how important research can be to a social worker. Attending the Family Care Curriculum meetings provided insight on how important research information is when it comes to developing a program designed to help improve parenting.
A highlight for me so far has been being able to participate in the SPARK program with the youth at St. Barnabas Mission — in particular with the tweens and teens. I have always had a strong interest in working with adolescents, and HHI gives me the opportunity to do so. I facilitated interactive physical activities that the tweens/teens enjoyed. I also found myself being a listening ear when they wanted to talk about the daily adventures of their lives.
The diverse internship experience HHI offers is also teaching me the importance of community building and partnership development. As I continue to intern with HHI, I will continue to learn about homelessness and what it takes to advocate and make changes for a population that is underserved, yet so deserving.