Treating Infantile Hemangioma and Ruling Out PHACES Syndrome
Published on
Children's Doctor
Read a case study from the Division of Ophthalmology about treating infantile hemangioma and ruling out PHACES syndrome.
James R. Treat, MD, and William R. Katowitz, MD
A 9-week-old boy presents with a bluish mass of the right eyelid and orbit. His parents noted only a small flat red-blue spot at birth. They indicated this mass had increased in size for the 5 weeks prior to presentation. The patient was afebrile and otherwise healthy.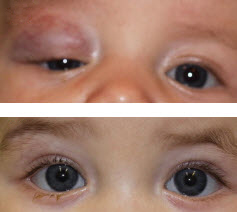 Figure 1: Before treatment (top): 9-week-old boy with an eyelid/orbital lesion. After treatment (bottom): The same child at age 4 months, after 6 weeks of oral propranolol. On examination he had a soft blue mass with overlying telangiectasias in the right upper eyelid with an inferiorly displaced right eye and severe right upper eyelid drooping (ptosis). He had no other skin lesions and no palpable abdominal masses.
An MRI of the orbits was performed, which showed a large orbital lesion that was likely vascular in origin. An empirical diagnosis of infantile hemangioma was made with imaging alone and no tissue biopsy. The patient underwent an echocardiogram at CHOP to screen for cardiac abnormalities. He was treated over the next 13 months with the beta-blocker propranolol. Figure 3B shows this same patient at age 4 months, just 6 weeks after initiating therapy.
Discussion: Other vascular entities such as venous or venolymphatic malformations could have this appearance but should not be rapidly growing. Orbital malignancies such as neuroblastoma, rhabdomyosarcoma, or orbital retinoblastoma are always a concern and need to be ruled out via imaging or sometimes biopsy.
Infantile hemangiomas are the most common acquired benign tumors in infants, occurring in approximately 5% of children. They typically are not present at birth, but instead appear in the first few days to weeks of life. They tend to grow rapidly in the first few months of life but larger lesions can continue to grow up to 10 to 12 months of age (proliferative stage). Hemangiomas then slowly shrink over the next 1 to 9 years (involutional stage). Patients with a larger than 5cm segmental (growing in a pattern, not oval or round) facial hemangioma are at risk for PHACES syndrome. The acronym of PHACES stands for posterior fossa abnormalities, hemangiomas, arterial abnormalities, cardiac defects including coarctation of the aorta, eye malformations, and sternal abnormalities. Patients at risk for PHACES should have a workup including an echocardiogram, MRI, and MRA of the brain and neck, as well as ophthalmology evaluation.
The treatment for infantile capillary hemangiomas can be observation alone if dysfunction or disfigurement is not of concern. In our patient, his hemangioma could induce deprivation amblyopia and thus warranted treatment. In the past, corticosteroids either taken orally or injected directly into the hemangioma were the mainstay of treatment. Surgery was, and remains, a last resort after a patient has failed medical therapy and still needs debulking.
In 2008, a group of French authors reported on the use of propranolol for infantile hemangiomas. Since then, beta-blockers have become the mainstay and first-line intervention for large capillary hemangiomas, and recently a formulation of propranolol was approved by the Federal Drug Administration for treatment of infantile hemangiomas. Smaller and more superficial lesions can be treated with a topical beta-blocker preparation (timolol gel-forming solution), though this therapy will not treat deeper lesions. Patients at risk for PHACES should have a workup prior to initiation of propranolol so any cardiac or neurologic contraindications to beta-blocker therapy can be identified.
Once a patient has been diagnosed by Ophthalmology with a hemangioma warranting therapy, the child is promptly referred to the Dermatology Section at CHOP. If a child with a periocular hemangioma presents to Dermatology, Ophthalmology is consulted. If there are no contraindications such as hypoglycemia, bradycardia, hypotension, PHACES syndrome, or concurrent respiratory illness, the patient is started on a loading dose of propranolol. Children older than 3 months can be treated as outpatients, and those under 3 months adjusted for prematurity are admitted for a 48-hour dose escalation. Parents administering oral propranolol to their children are consented to the main side effects of propranolol, which include (but are not limited to) hypoglycemia (secondary to impairment of gluconeogenesis), bradycardia, hypotension, bronchoconstriction, and lack of optimal response to therapy.
Patients are then seen monthly for heart rate and blood pressure monitoring, as well as weight-dependent dose adjustment. A patient usually needs to receive oral beta-blocker therapy 4 to 6 months beyond the end of the proliferative phase of their hemangioma. Therefore they are usually on medication until 12 to 18 months of age. Early tapering or cessation of propranolol can lead to tumor recurrence necessitating restarting therapy.
References and Suggested Readings
Drolet BA, Frommelt PC, Chamlin SL, et al. Initiation and use of propranolol for infantile hemangioma: report of a consensus conference. Pediatrics. 2013;131(1):128-140.
Léauté-Labrèze C, Dumas de la Roque E, Hubiche T, Boralevi F, Thambo JB, Taïeb A. Propranolol for severe hemangiomas of infancy. N Engl J Med. 2008;358(24):2649-2651.
Referral information
To refer a patient to CHOP's Division of Ophthalmology, call 215-590-2791.